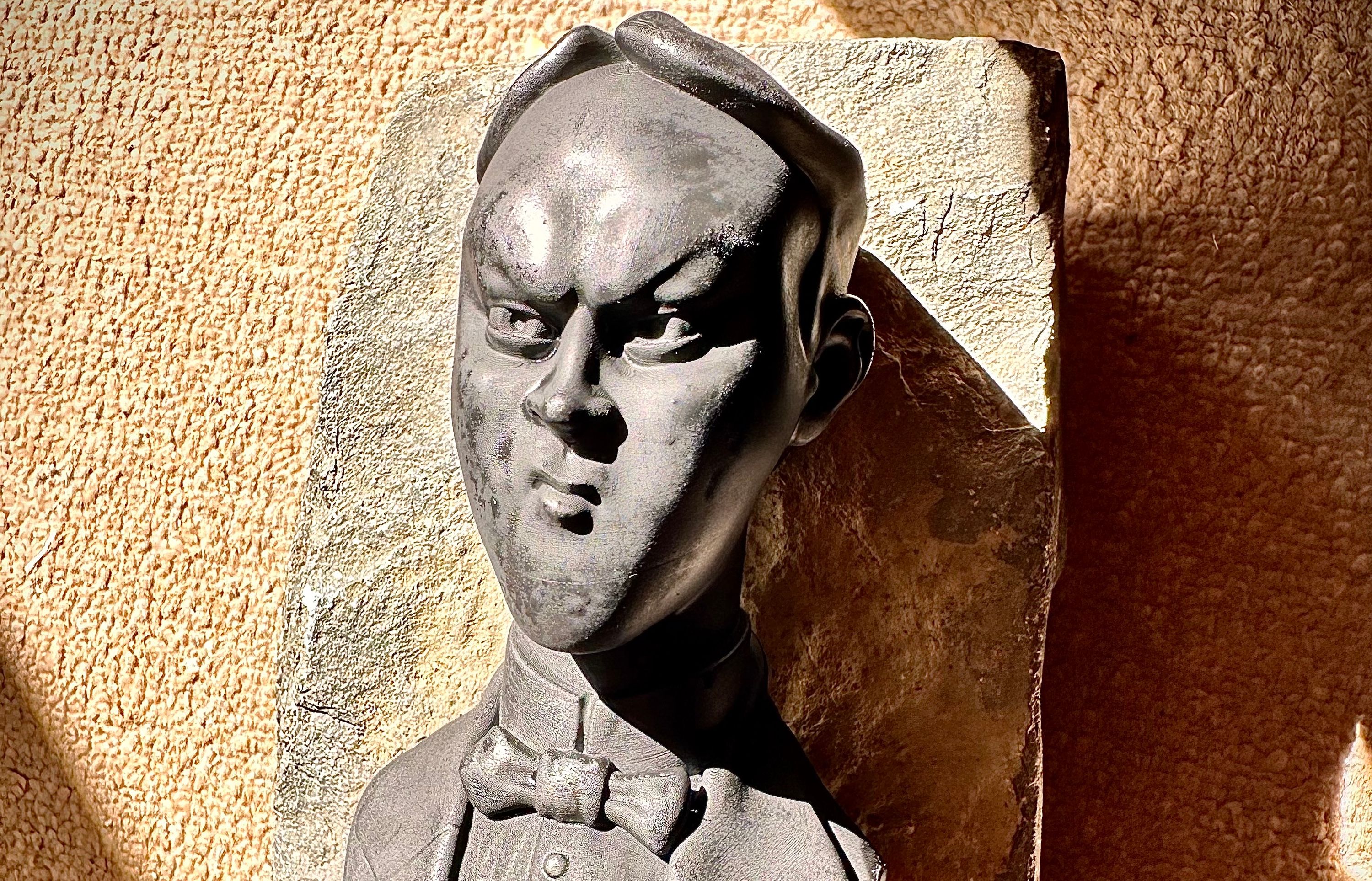 The Mount Rushmore of People Who Are Always Right
Context
Merlin is an enthusiastic new fan of making

3D

prints and then doing things to them.
Regrettably, Merlin also enjoys talking about this.
Merlin co-hosts a fortnightly podcast called Reconcilable Differences with his worst friend, John Siracusa.
On an episode scheduled to be released on Friday 29 September 2023, John interrogates Merlin about his weird new hobby during the member after show.
Merlin has assured John that photos of this weird obsession will be provided for our beloved listeners. That is this. It is where you are right now. Hello.
What John does not know is that Merlin is currently developing a very handsome bust of John.
John is not a good friend, and he does not deserve such a gesture. Which highlights the dysfunctional dynamic of their relationship better than more seemingly lucid prose explanations could.
John makes nothing for Merlin.
---
A Factory Tour
Please keep your arms inside the vehicle at all times.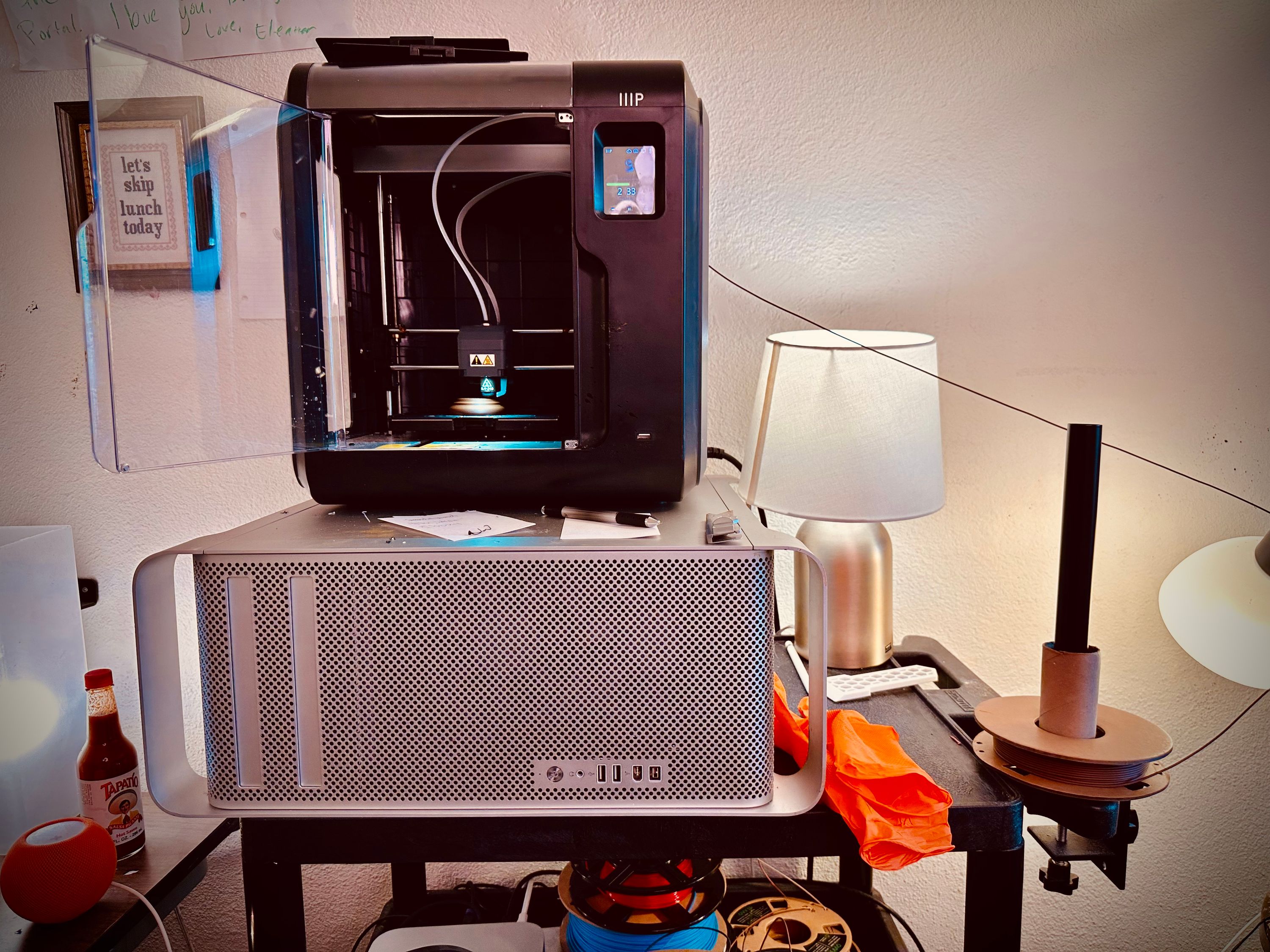 My Apparatus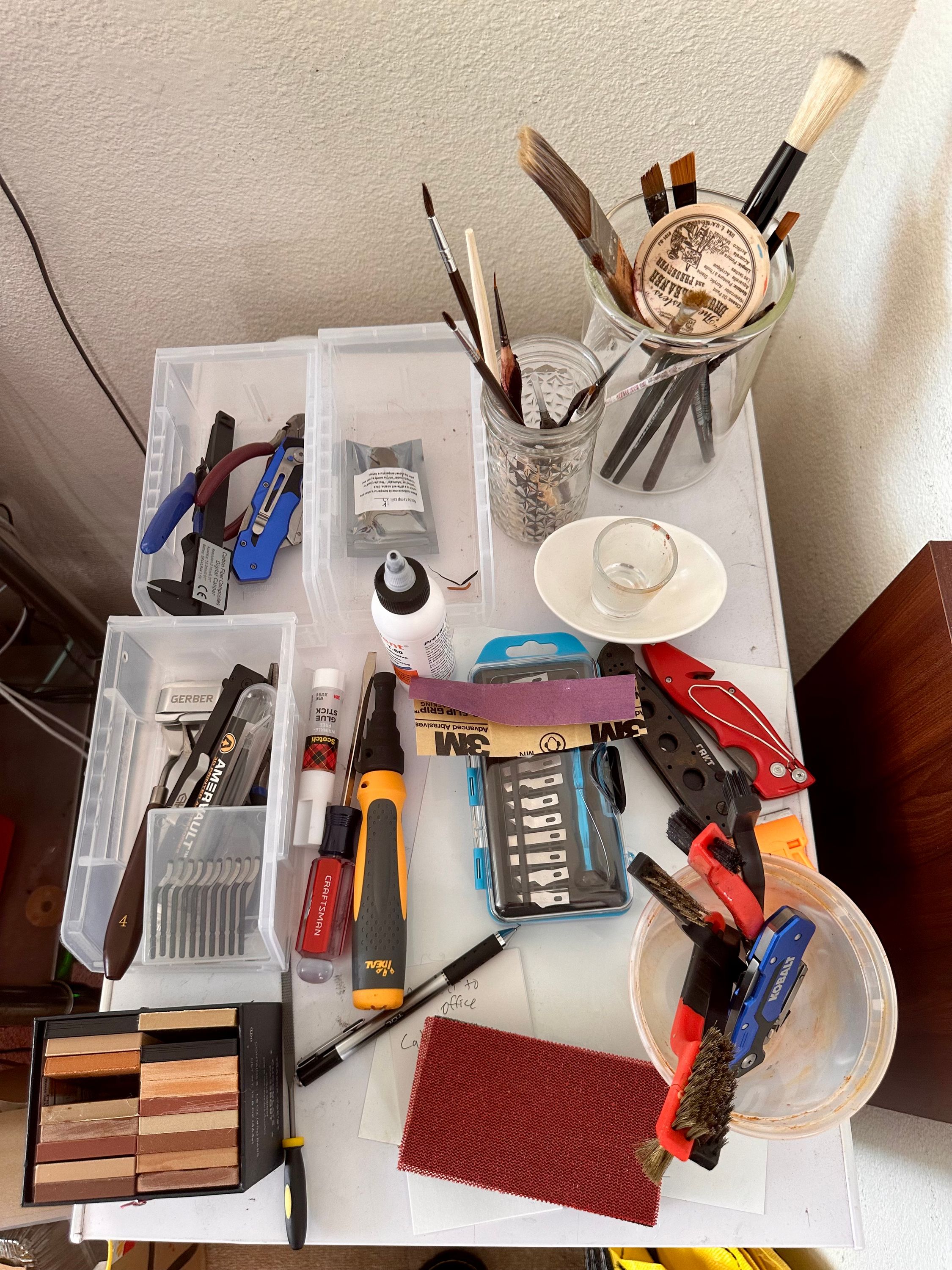 I need my tools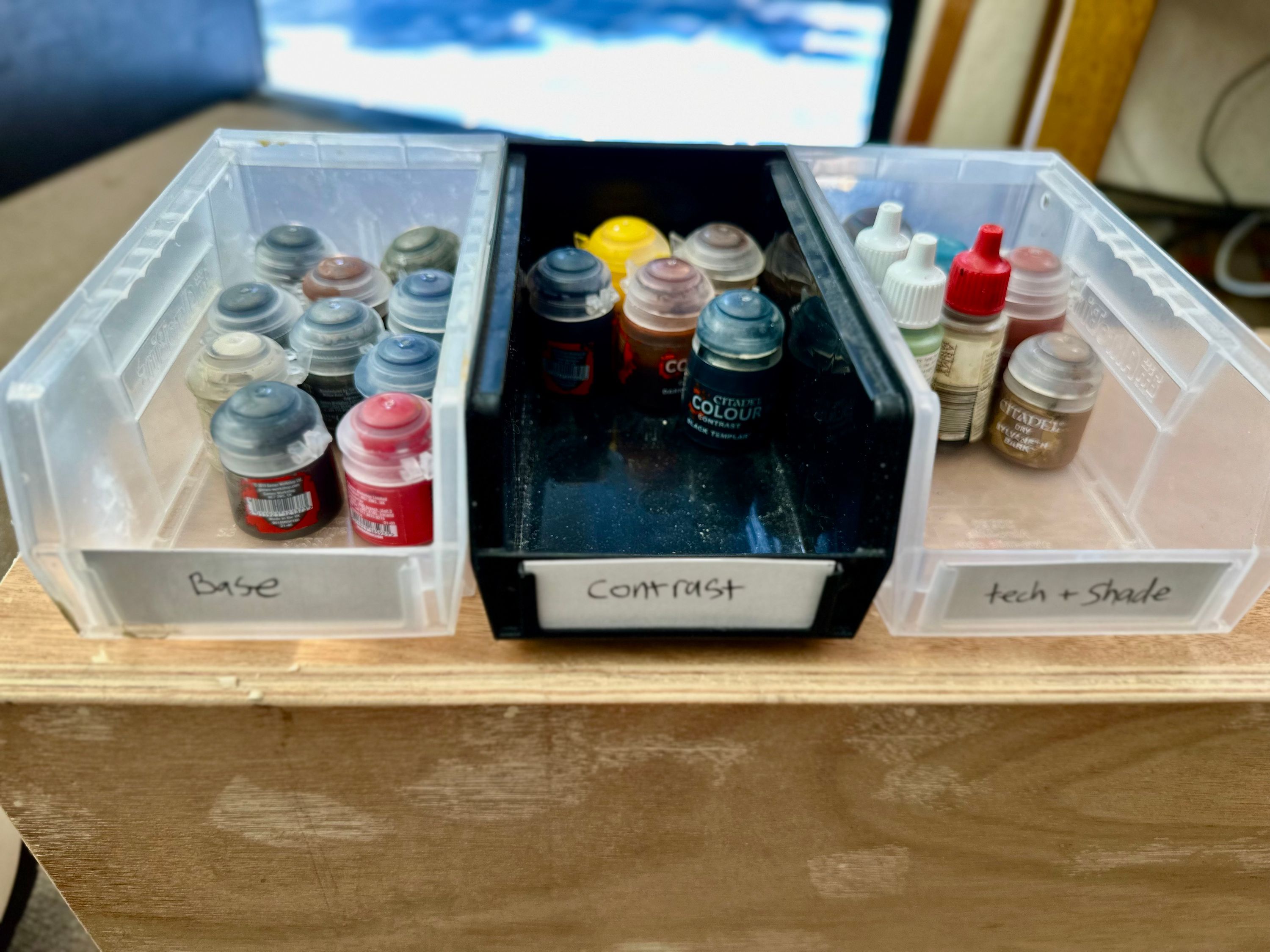 Painting things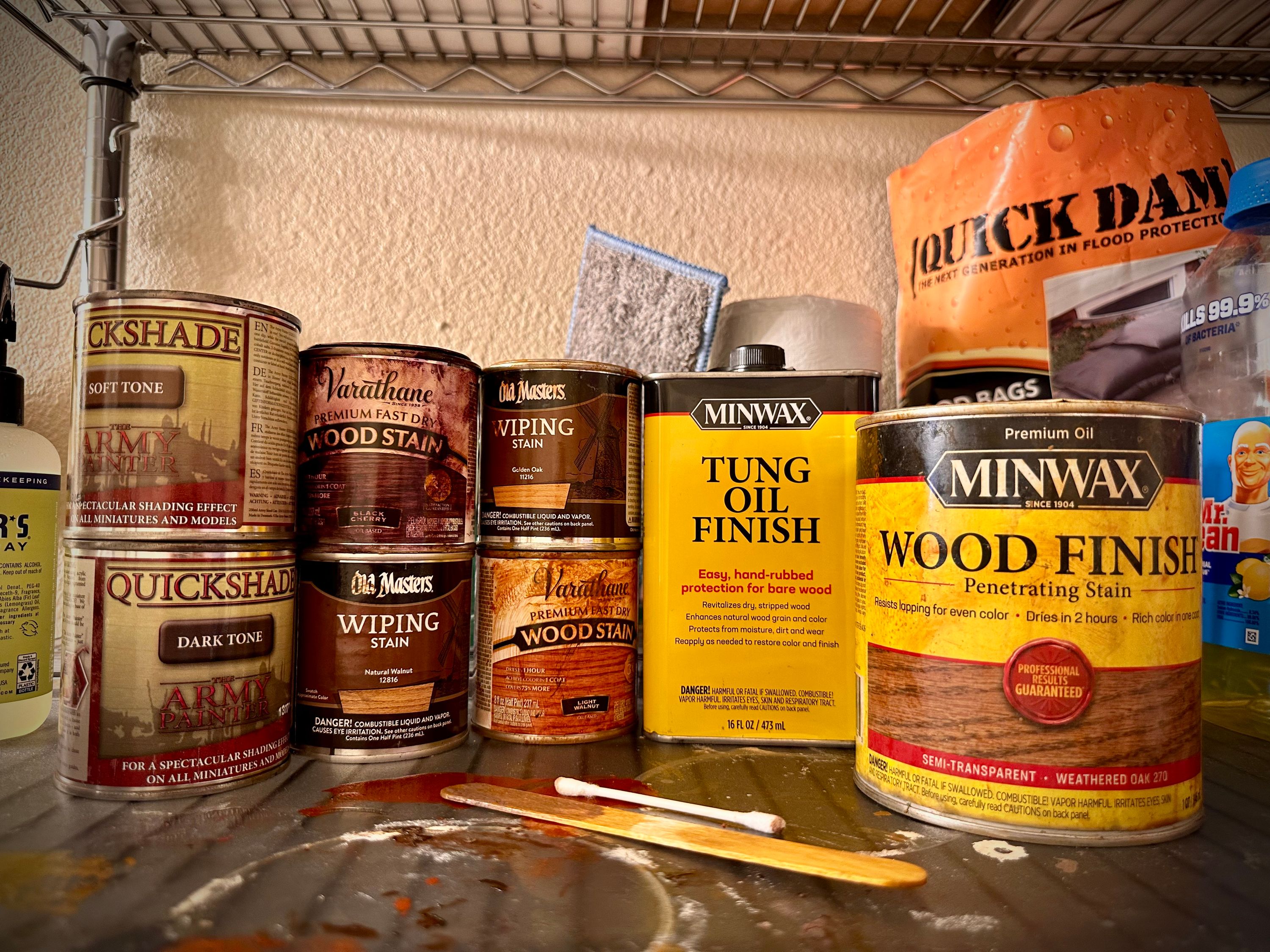 Remember, they call it "stain" for a reason. As demonstrated by the comma of walnut stain that's still on my left thumbnail from over 3 weeks ago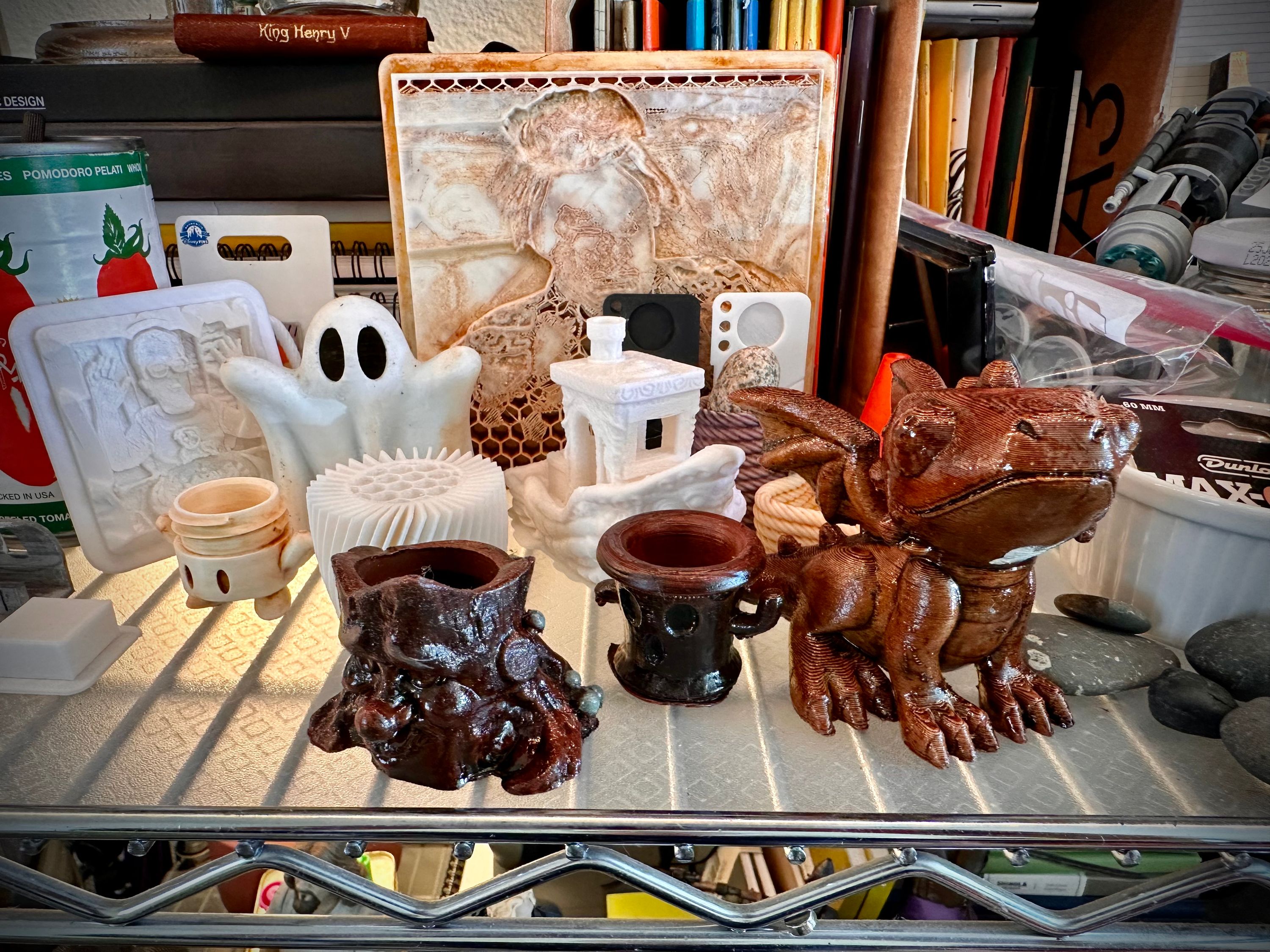 Some little guys
---
Sunday Siracusa Head
Start - Friday 9 pm
Source: Haunted Bust
Printer: Monoprice Voxel
Filament: Polymaker Black PolyLite PLA-CF (Amazon)
Settings

Hyper Quality
Layer Height: 0.08mm
Infill: 20%

No brim or raft
Alt text
---
Sunday 9:44 am
Unprocessed print.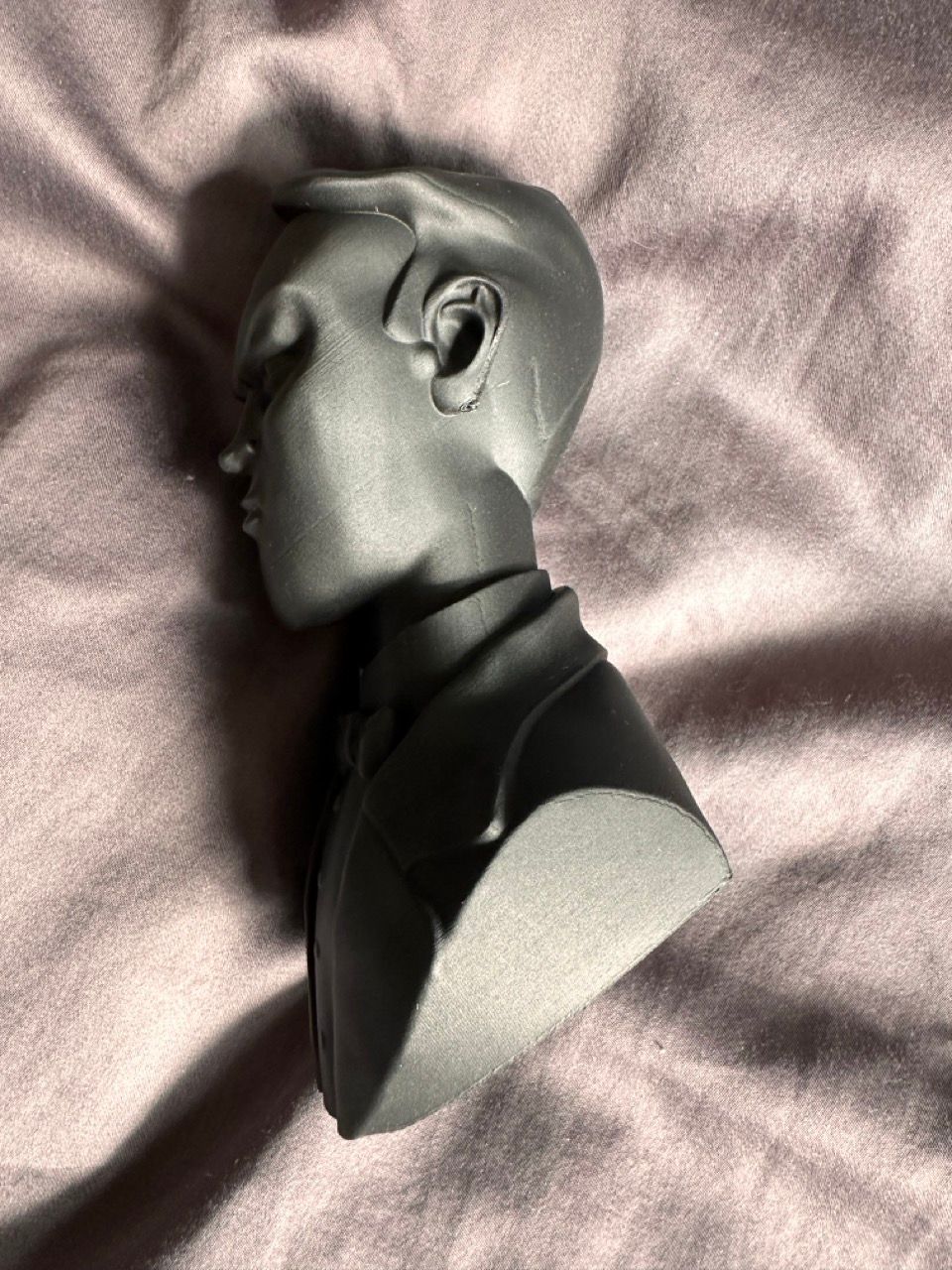 Alt text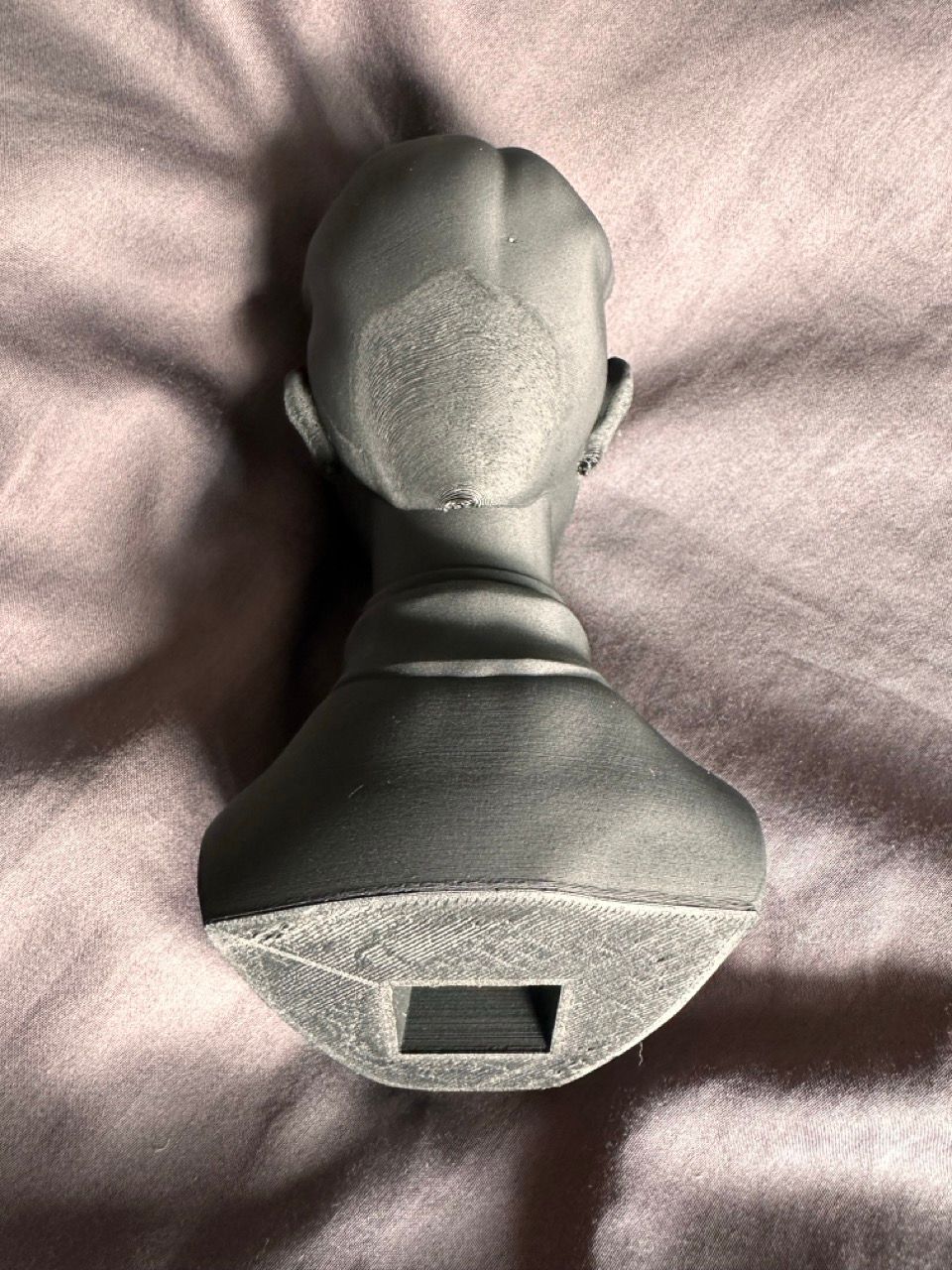 Alt text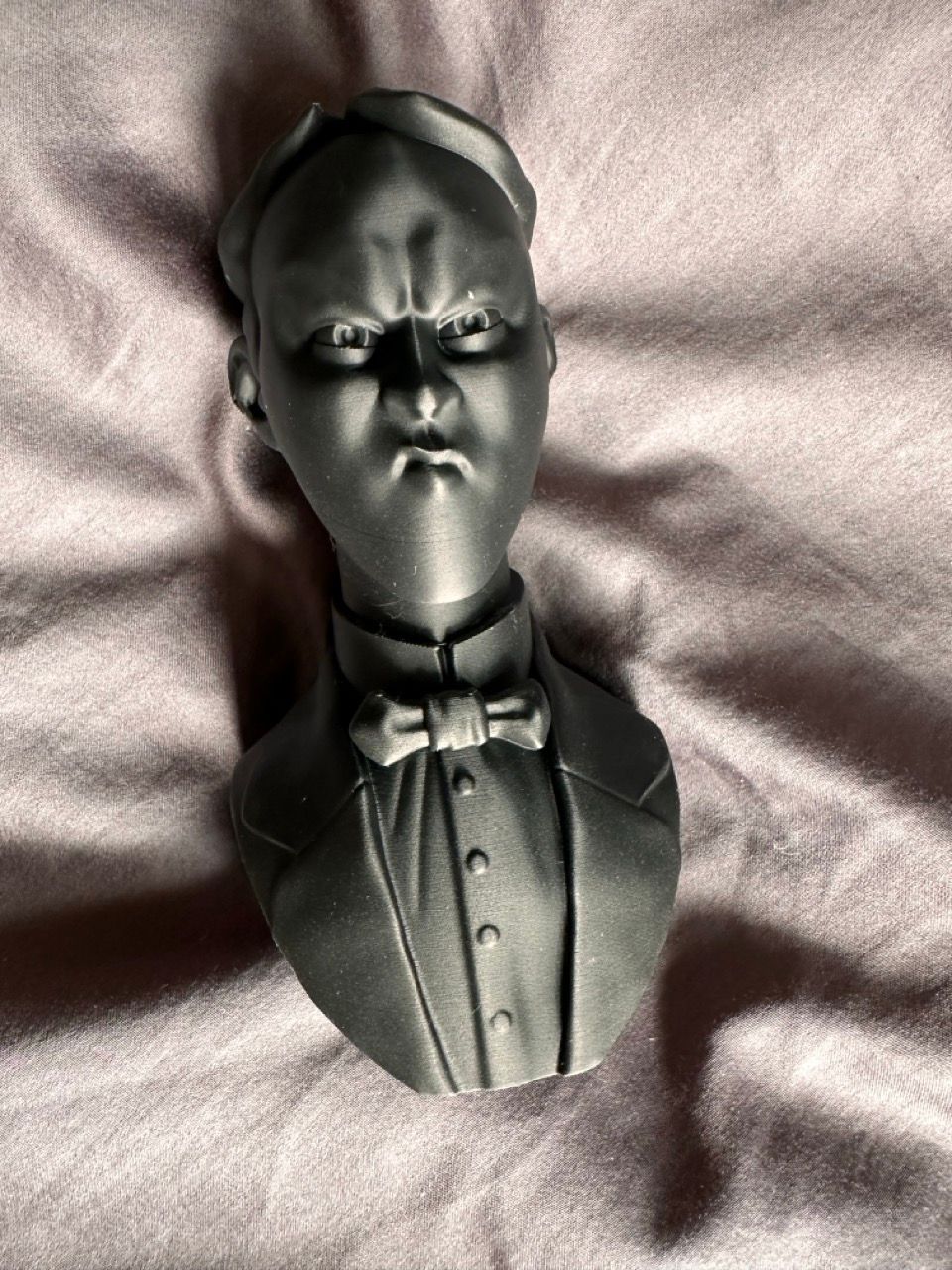 Alt text
---
Cleanup 1, Sunday 10:26 am
Quick cleanup, clipping off big nubbins, then 320 grit sandpaper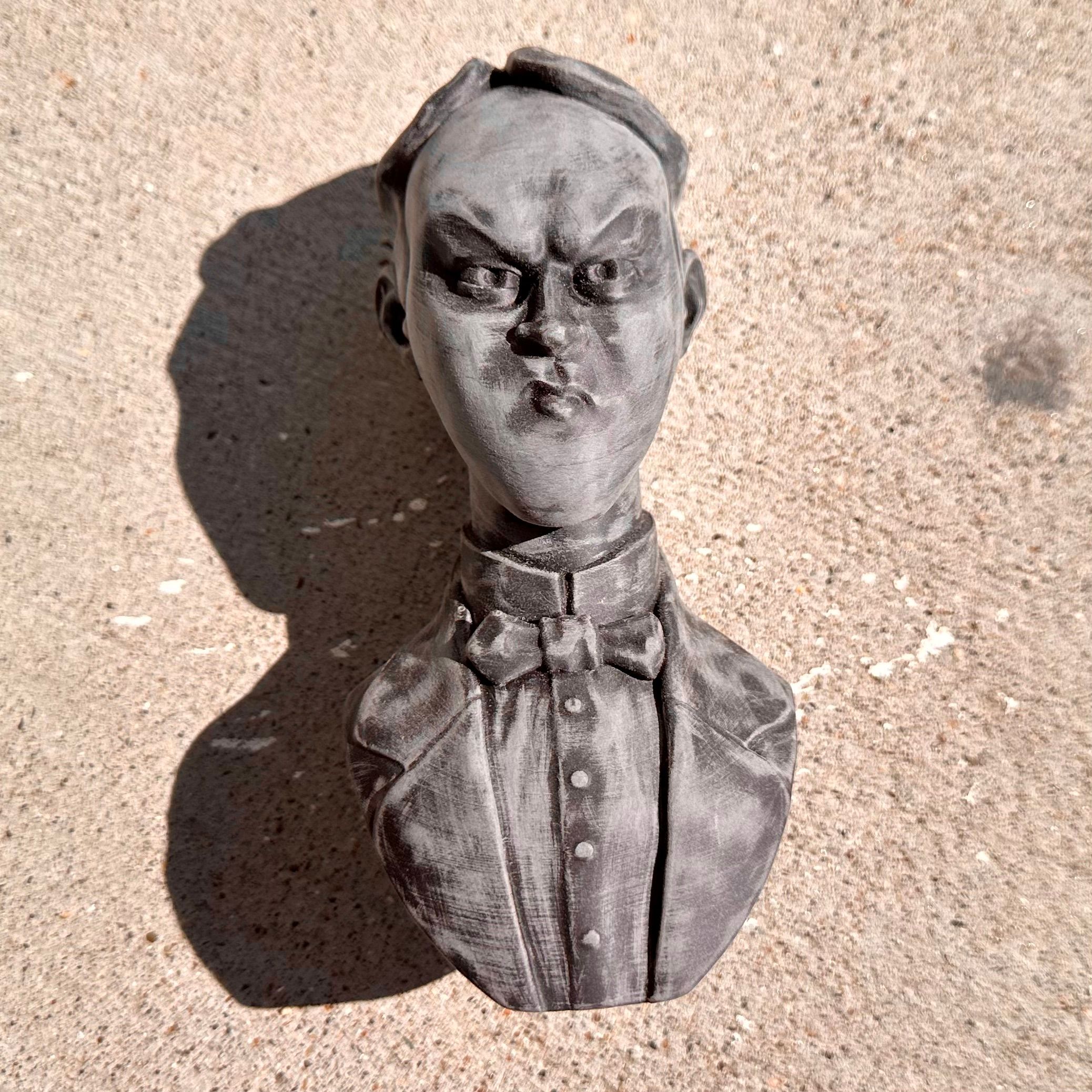 Alt text
---
The Stand, Sunday ca. 12 pm
Listening: Genesis - Selling England by the Pound (1973)
Printing on the base begins with OVV3D PLA+ wood-infused filament in 'Walnut' (Amazon)
Hyper quality and 200°C extruder temp.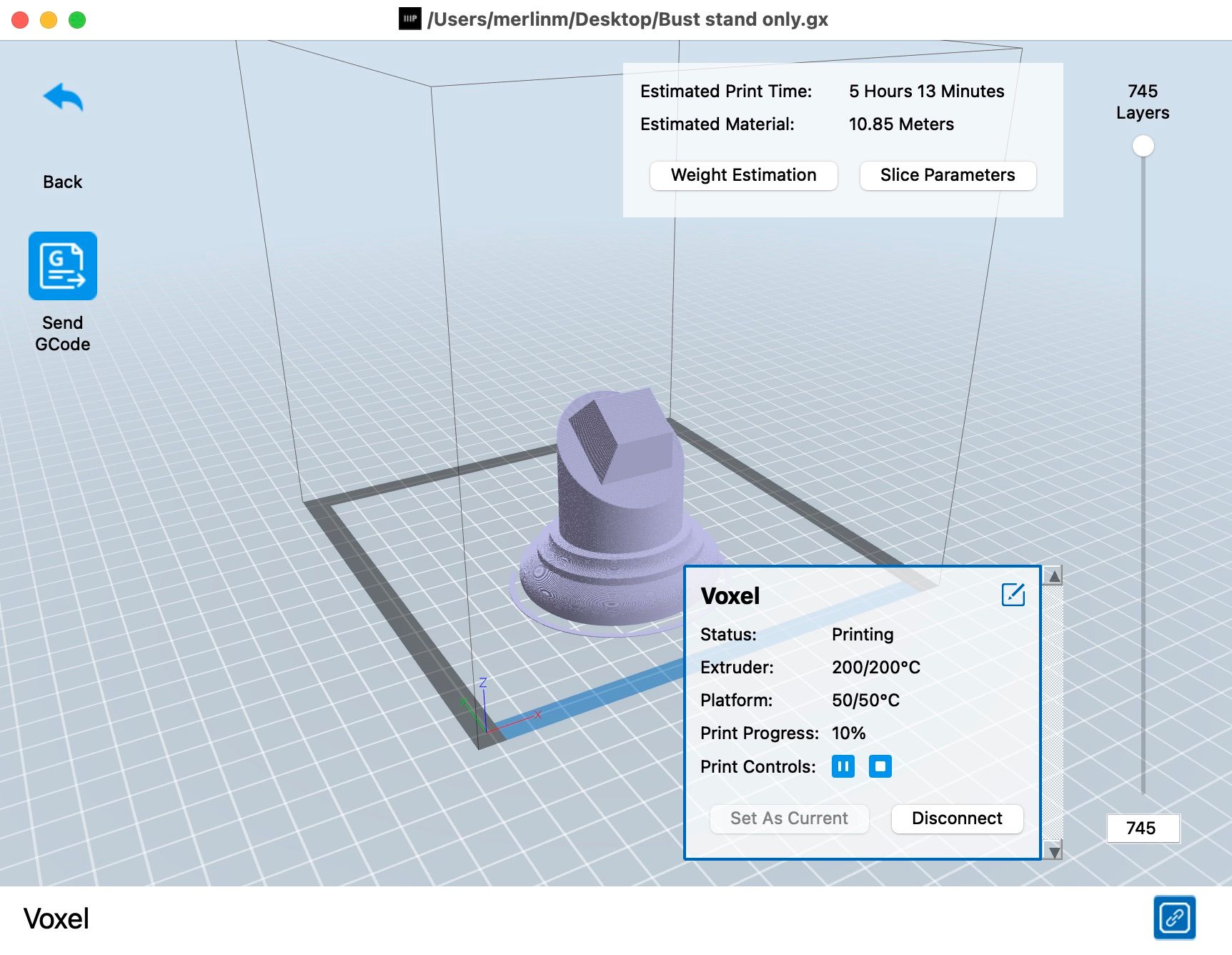 The .gx file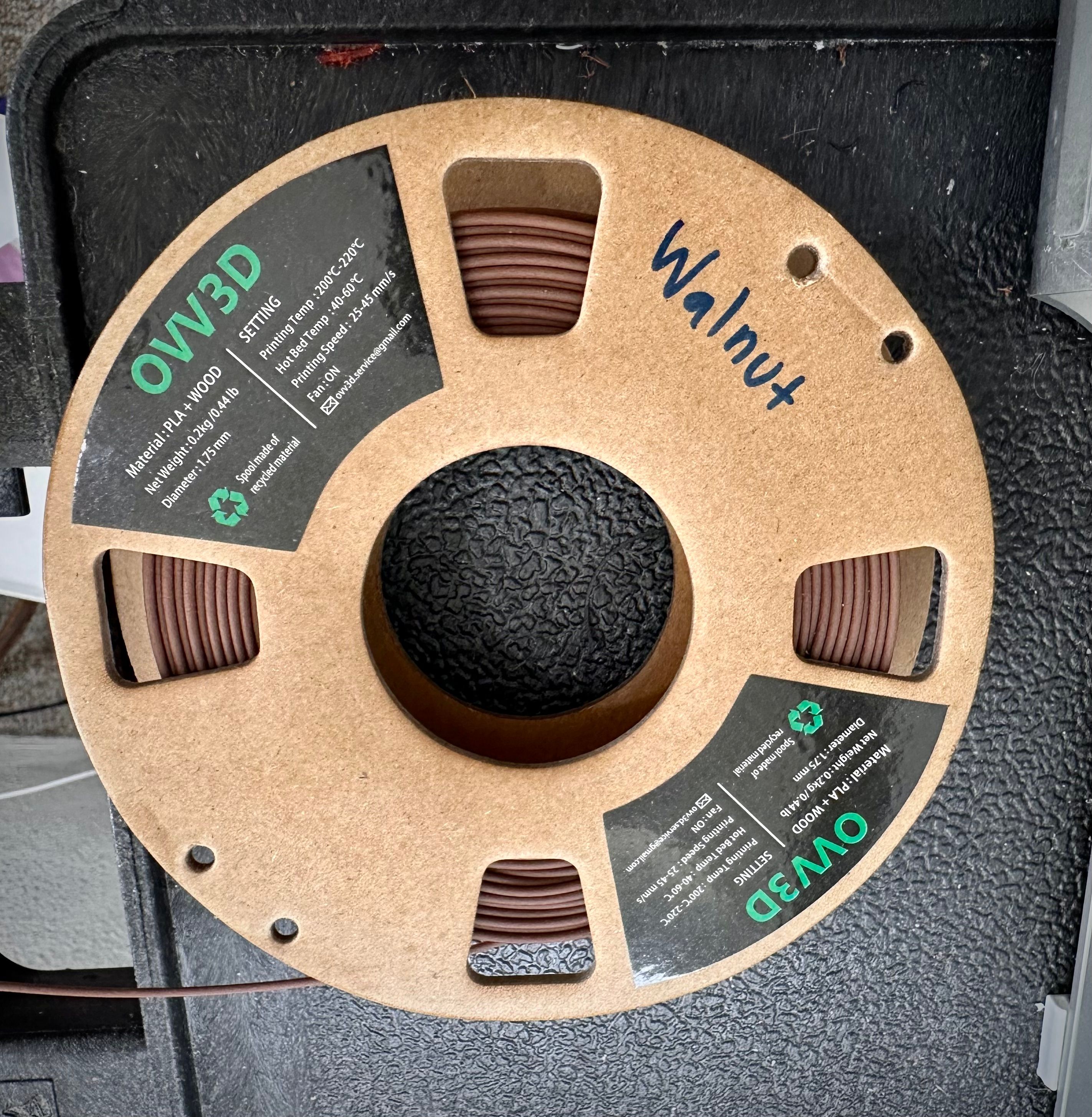 Infuse me with your wood, Daddy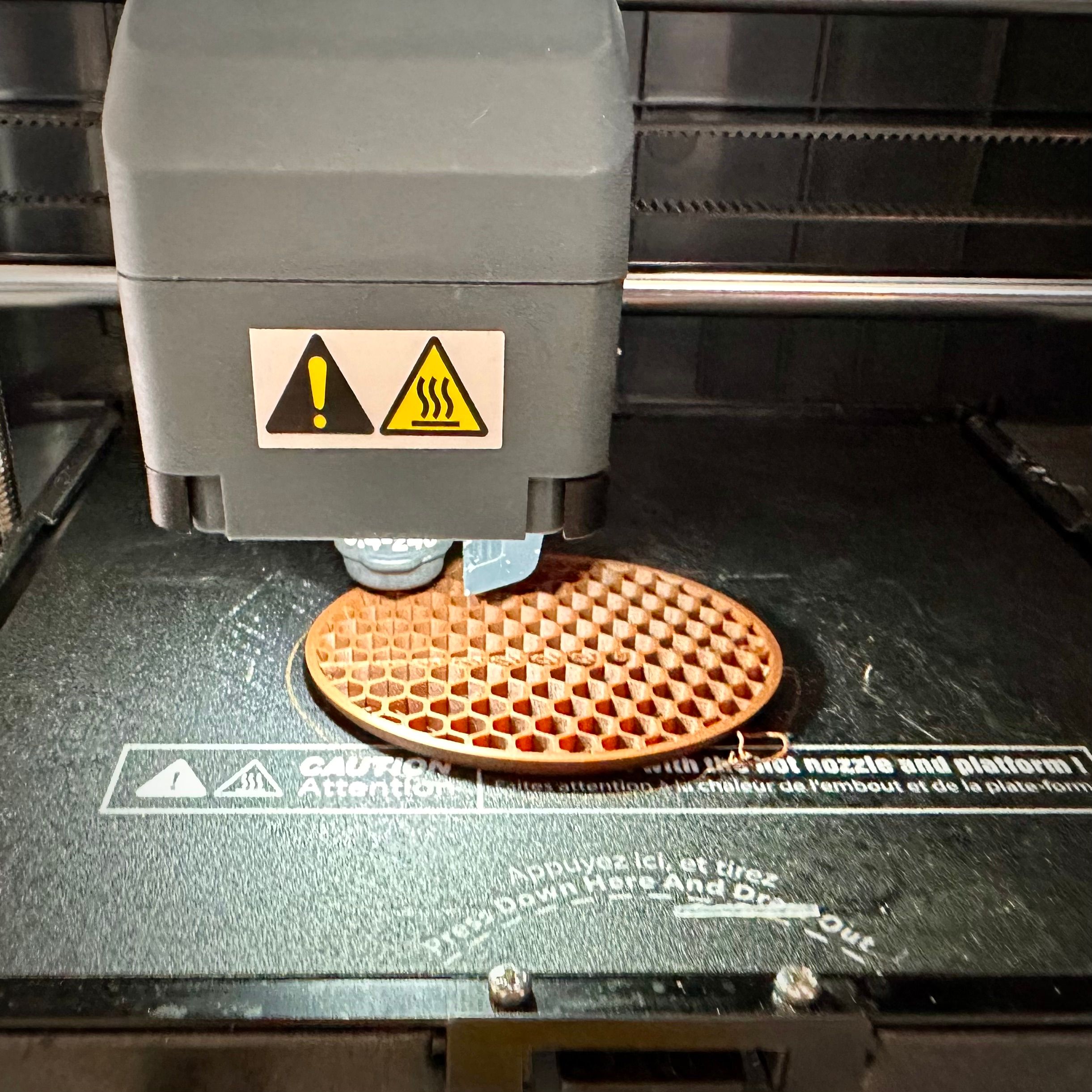 The stroopwafel emerges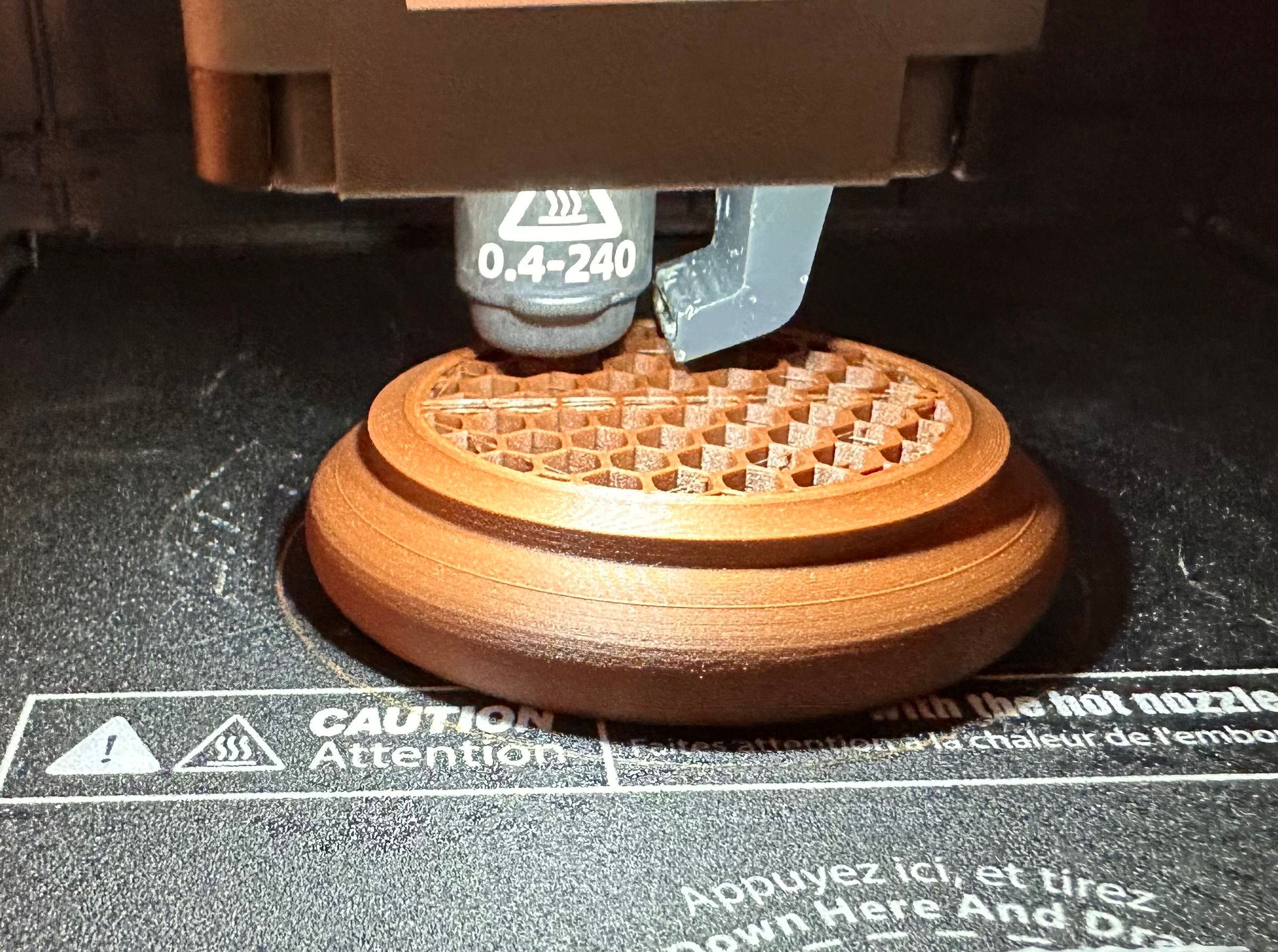 Three hours in. Turning out very cool so far
---
Cleanup 2, Sunday 12:48 pm
A weird and potentially controversial stage.
5-minute soak in acetone ("ACETONE?!?") to soften things up, and then we do another round of 320 grit sand paper.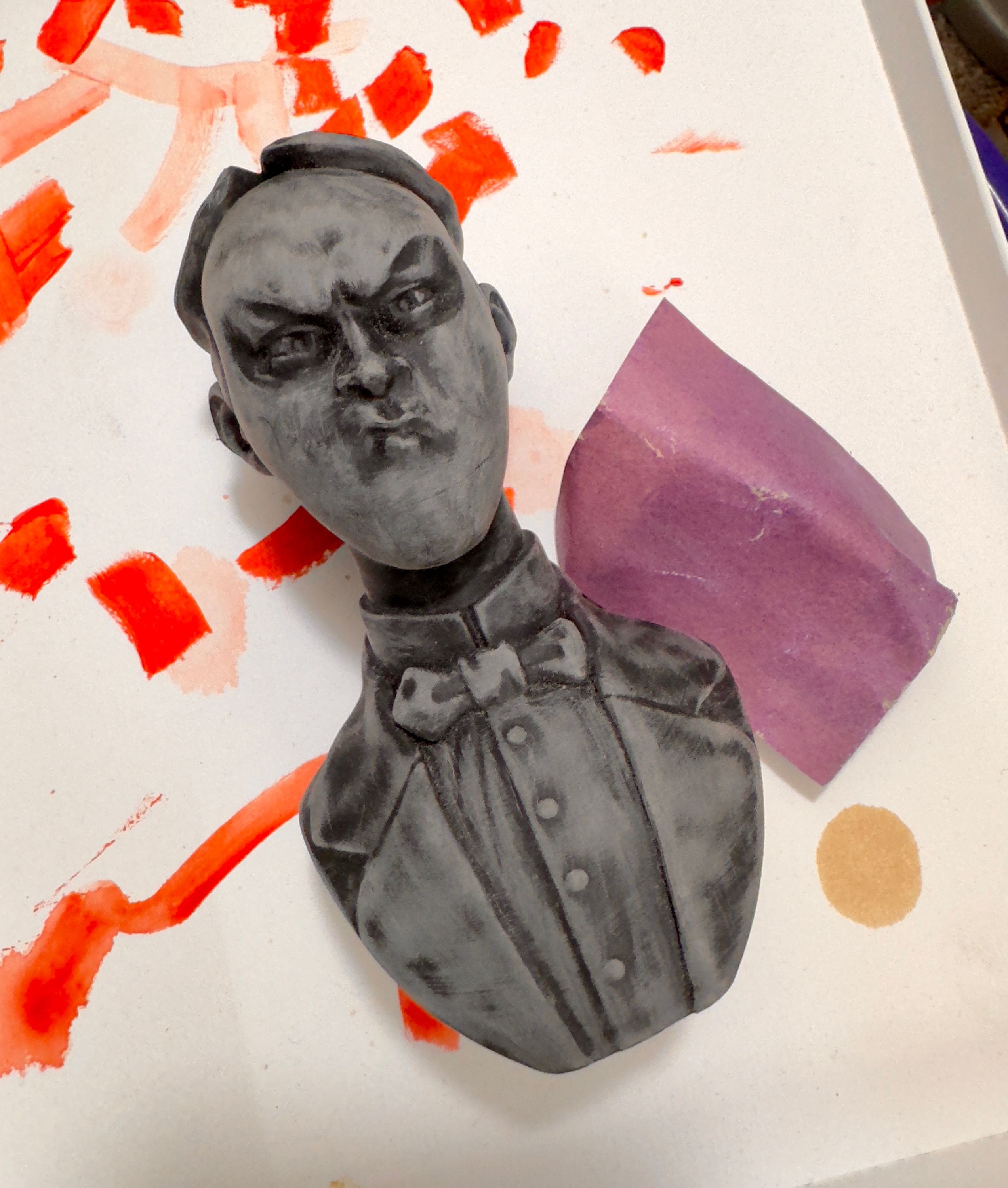 Alt text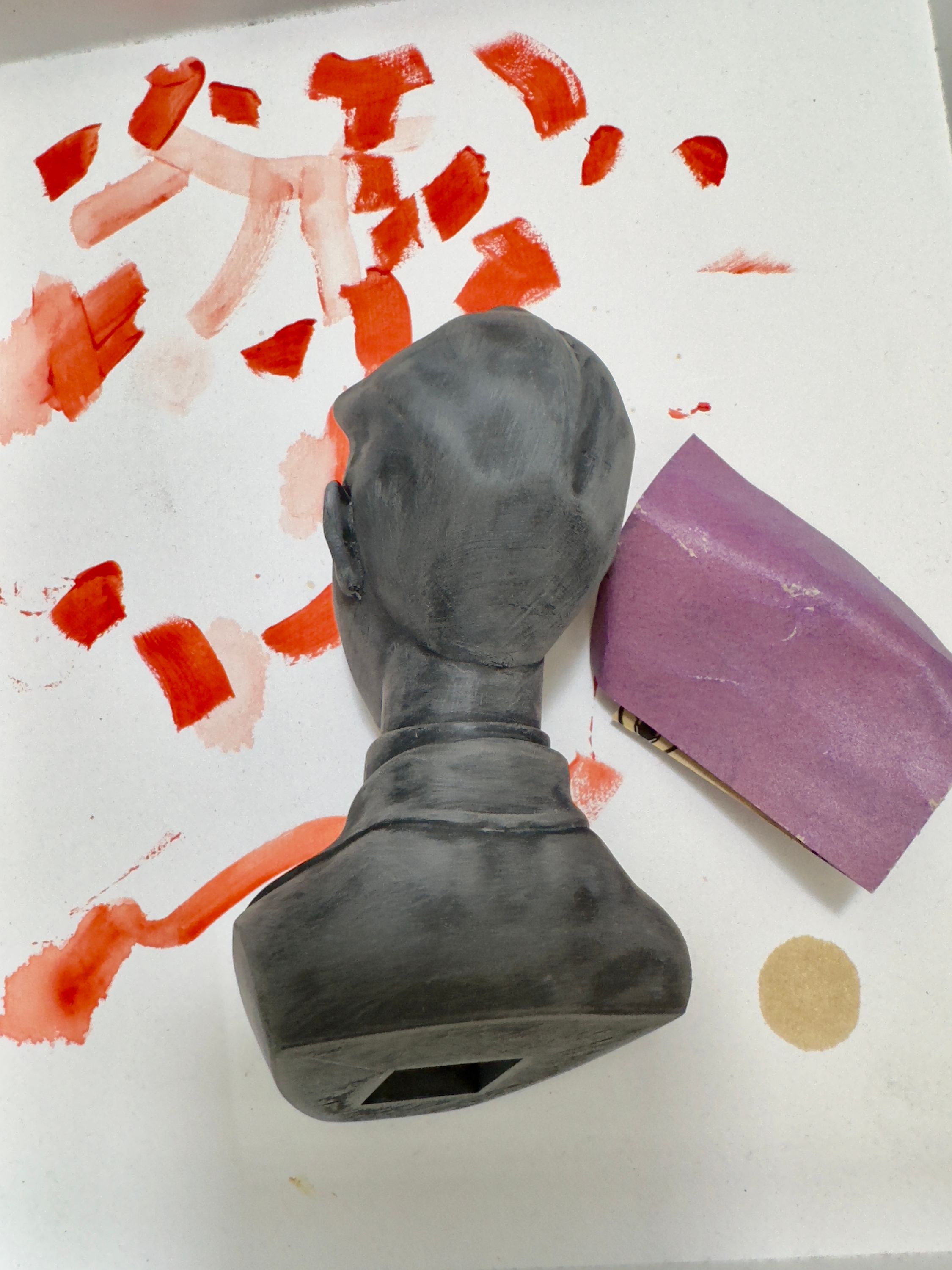 Alt text
---
Primer and Paint, Sunday 1:46 pm
Listening: John Vanderslice - Time Travel is Lonely (2001)
Beverage: iced tea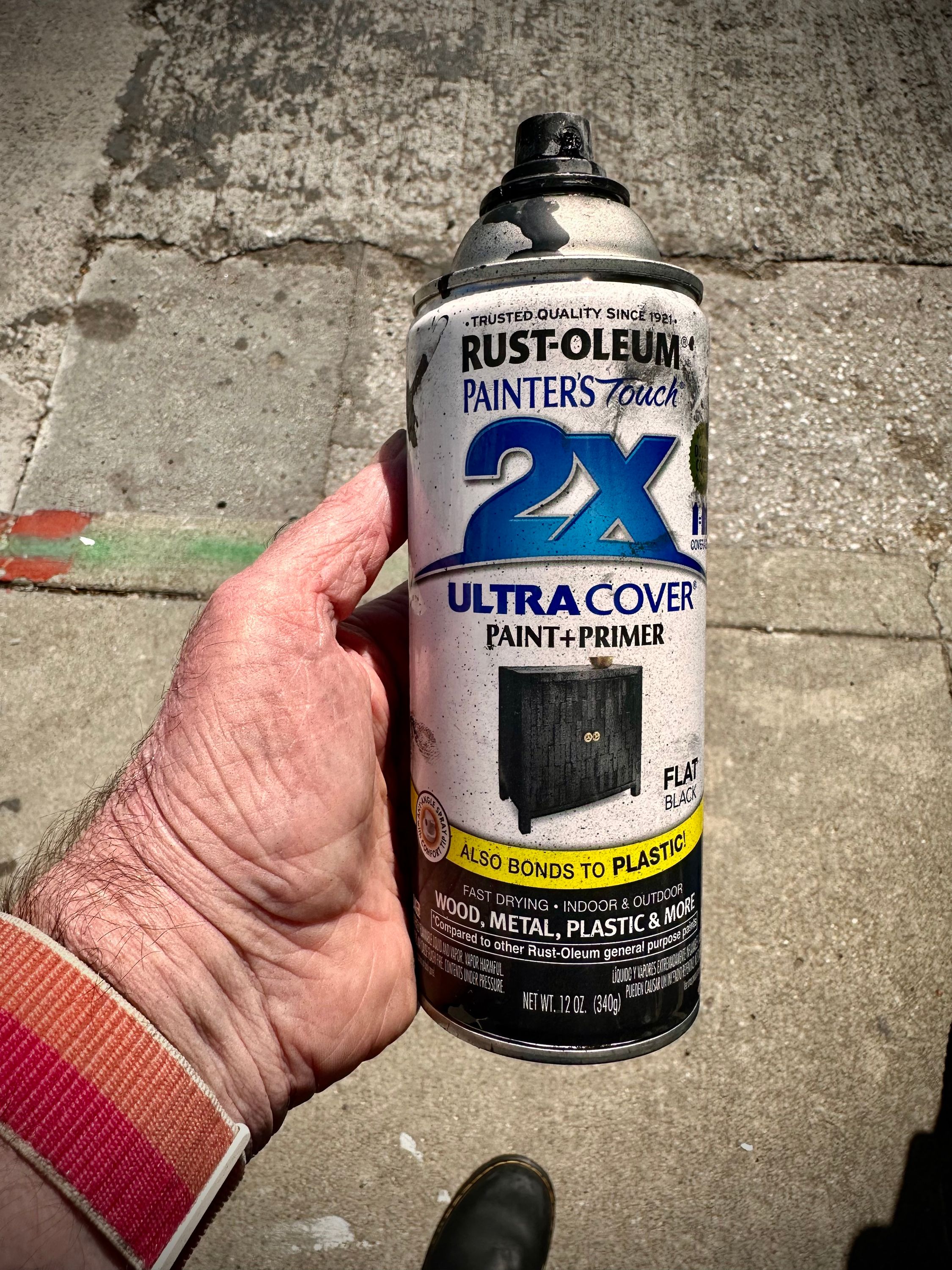 Alt text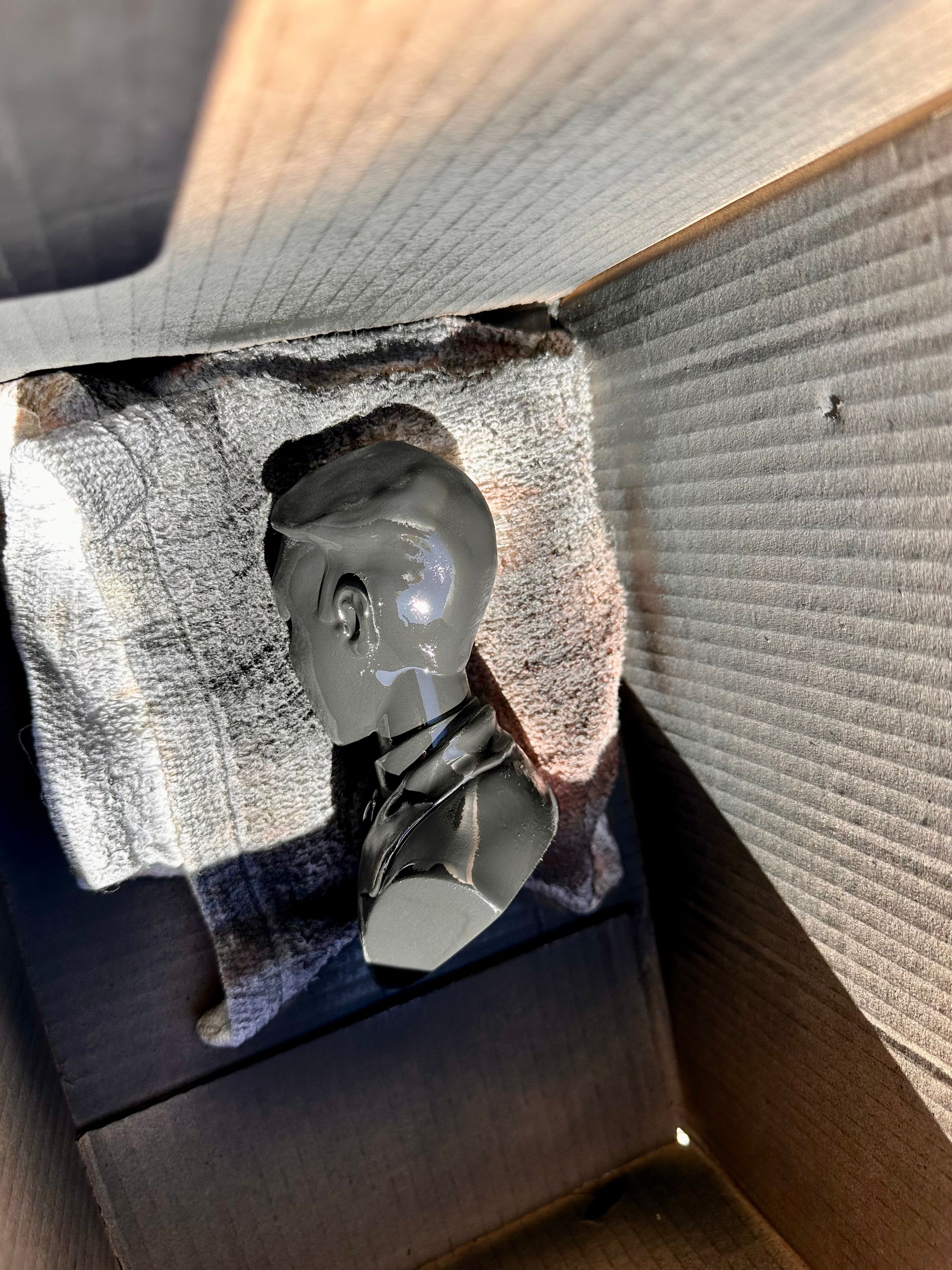 Alt text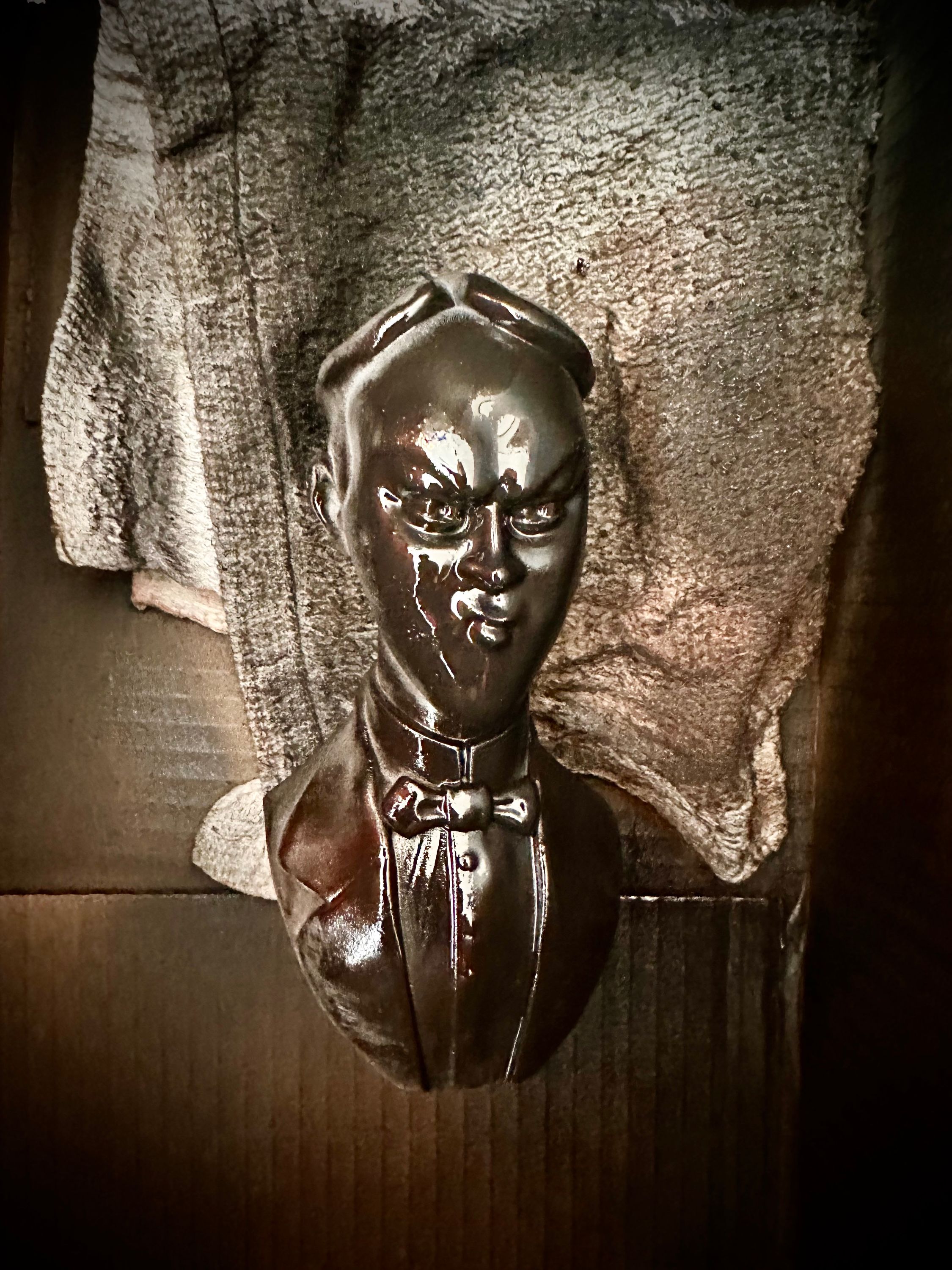 He's so fucking angry.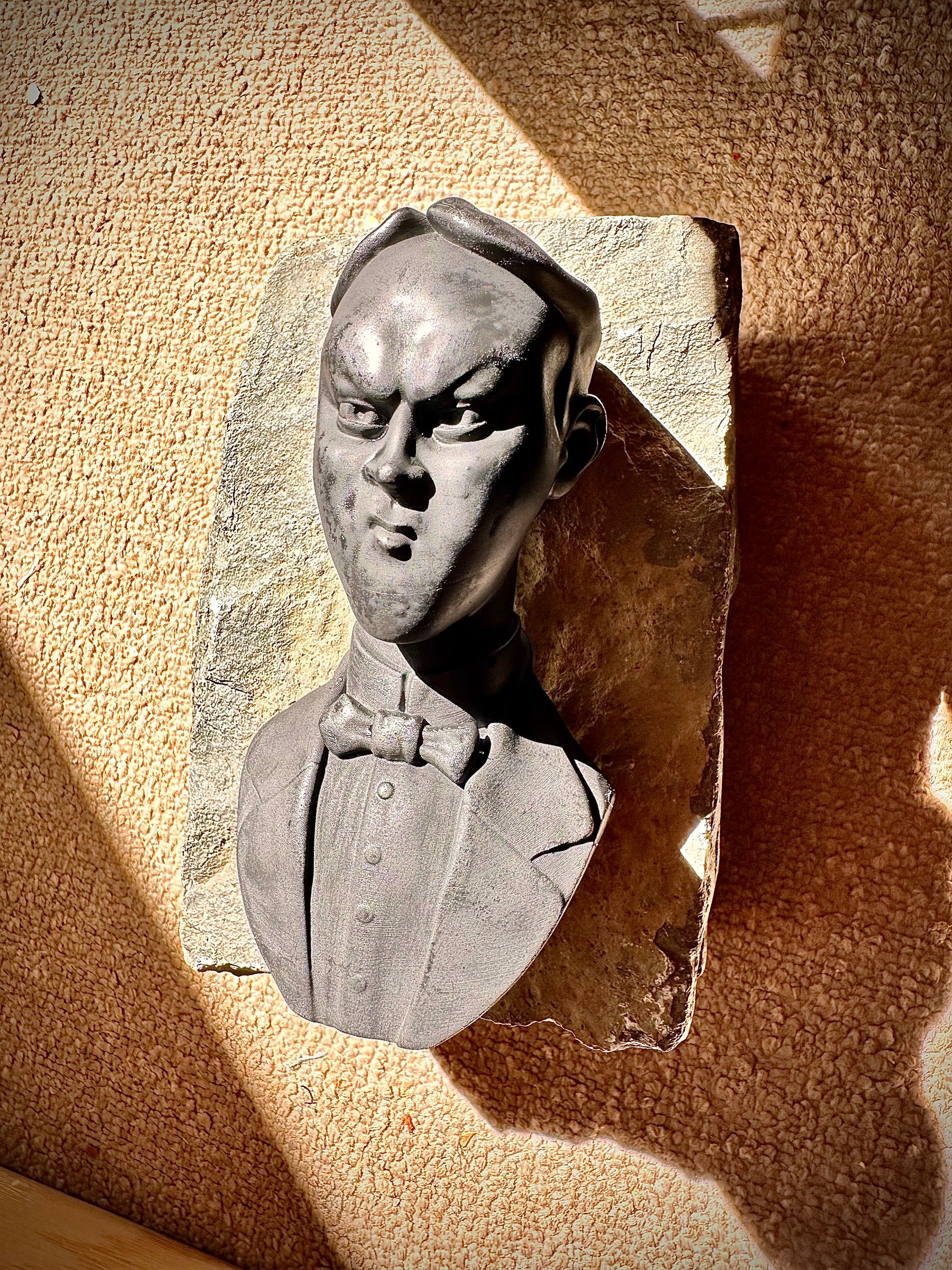 "Sure," the face says.
---
Base coat prototype, Sunday 4:09 pm
Listening: Tony Molina - Kill the Lights (2018)
Beverage: plain seltzer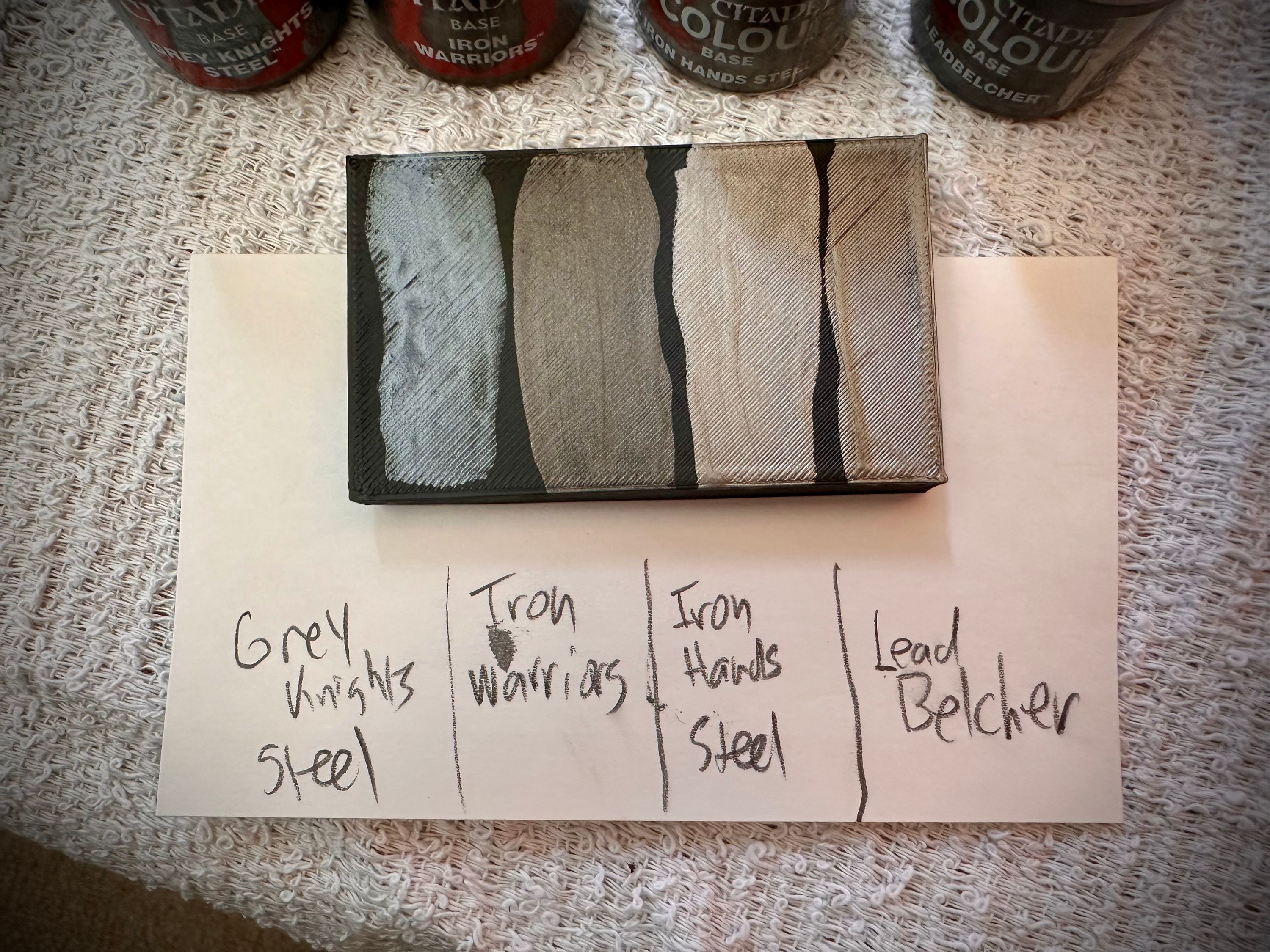 Swatches!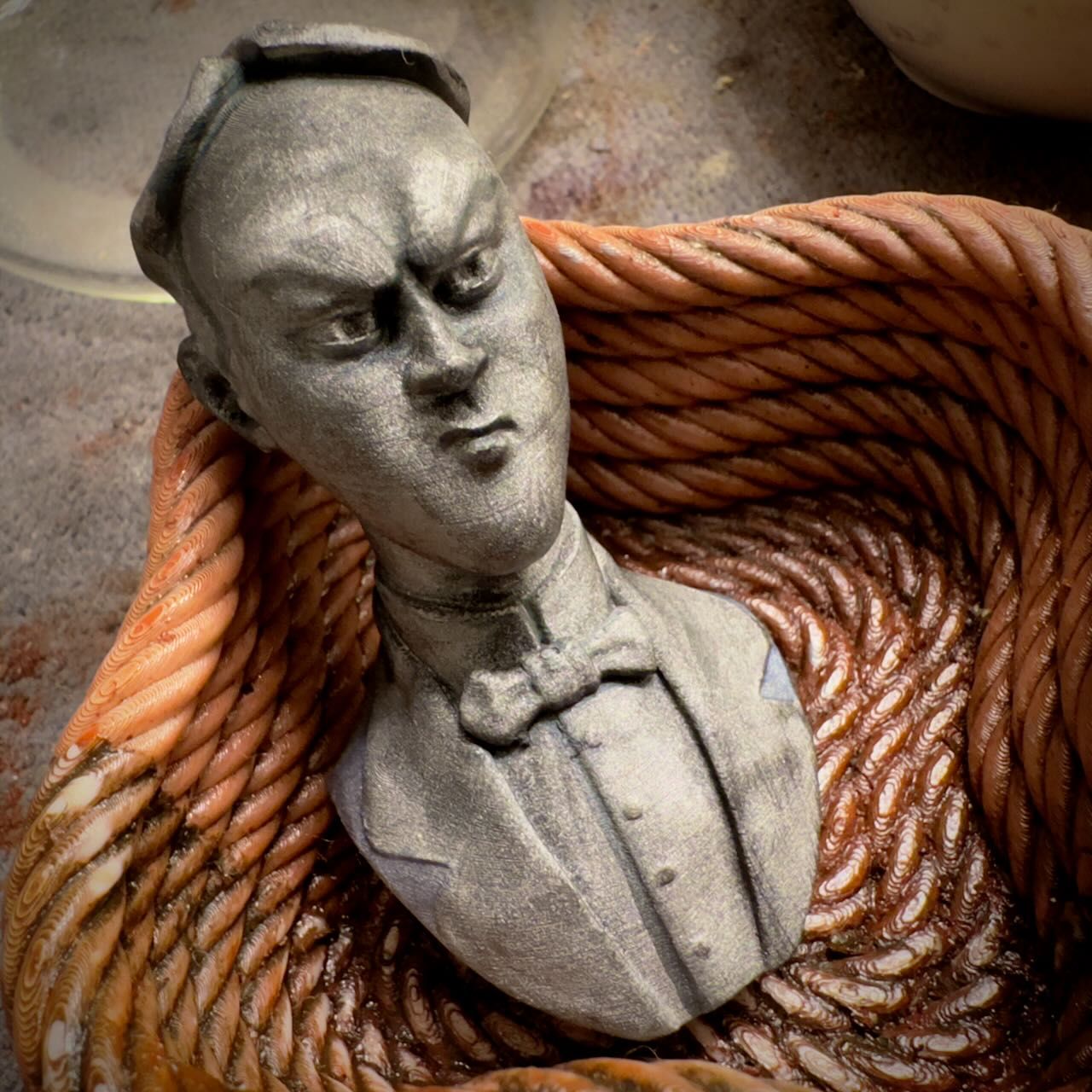 For context, this guy from late last week is "Iron Hands Steel"
---
Afternoon Status Summary, 4:52 pm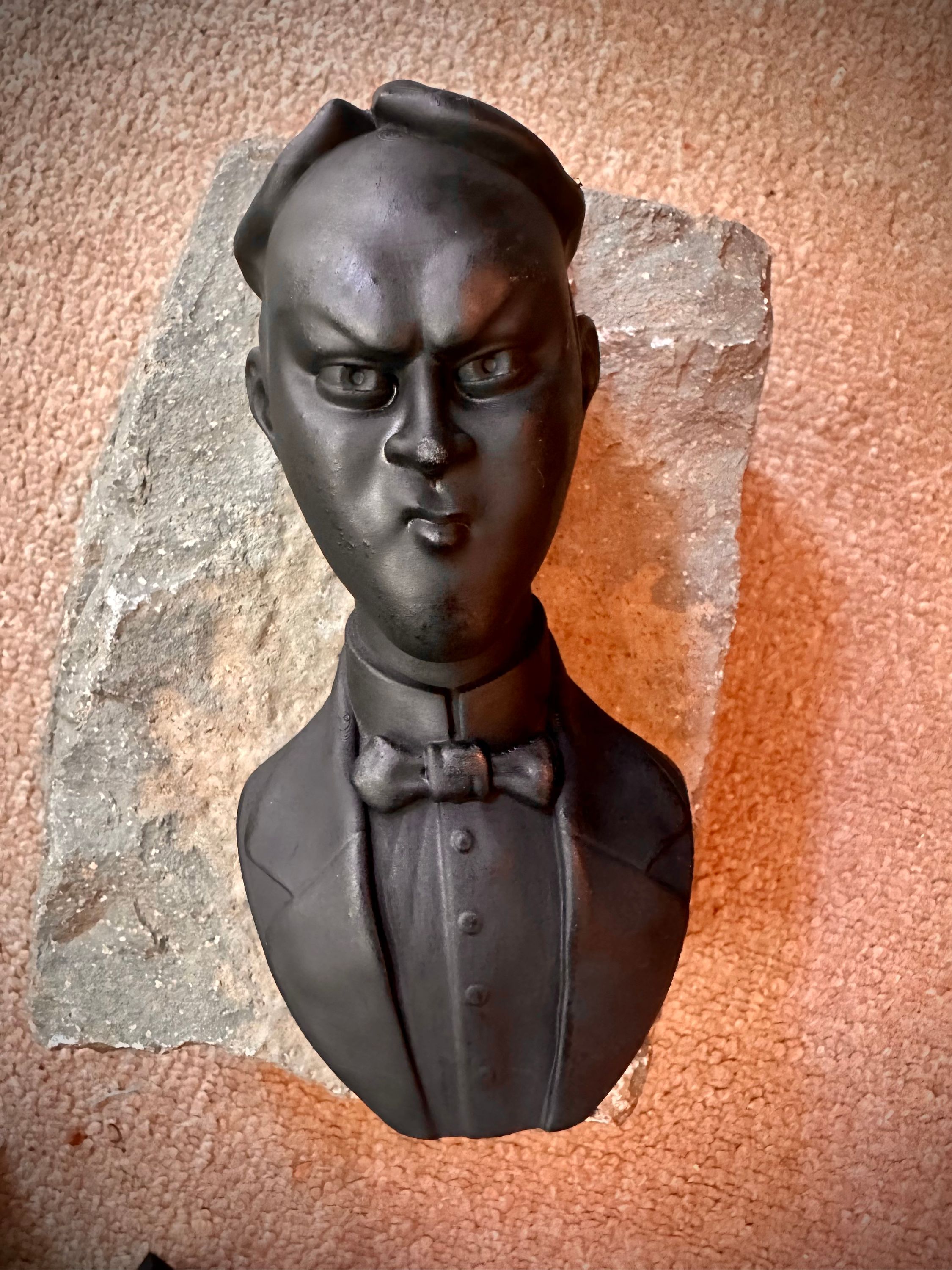 1. Drying head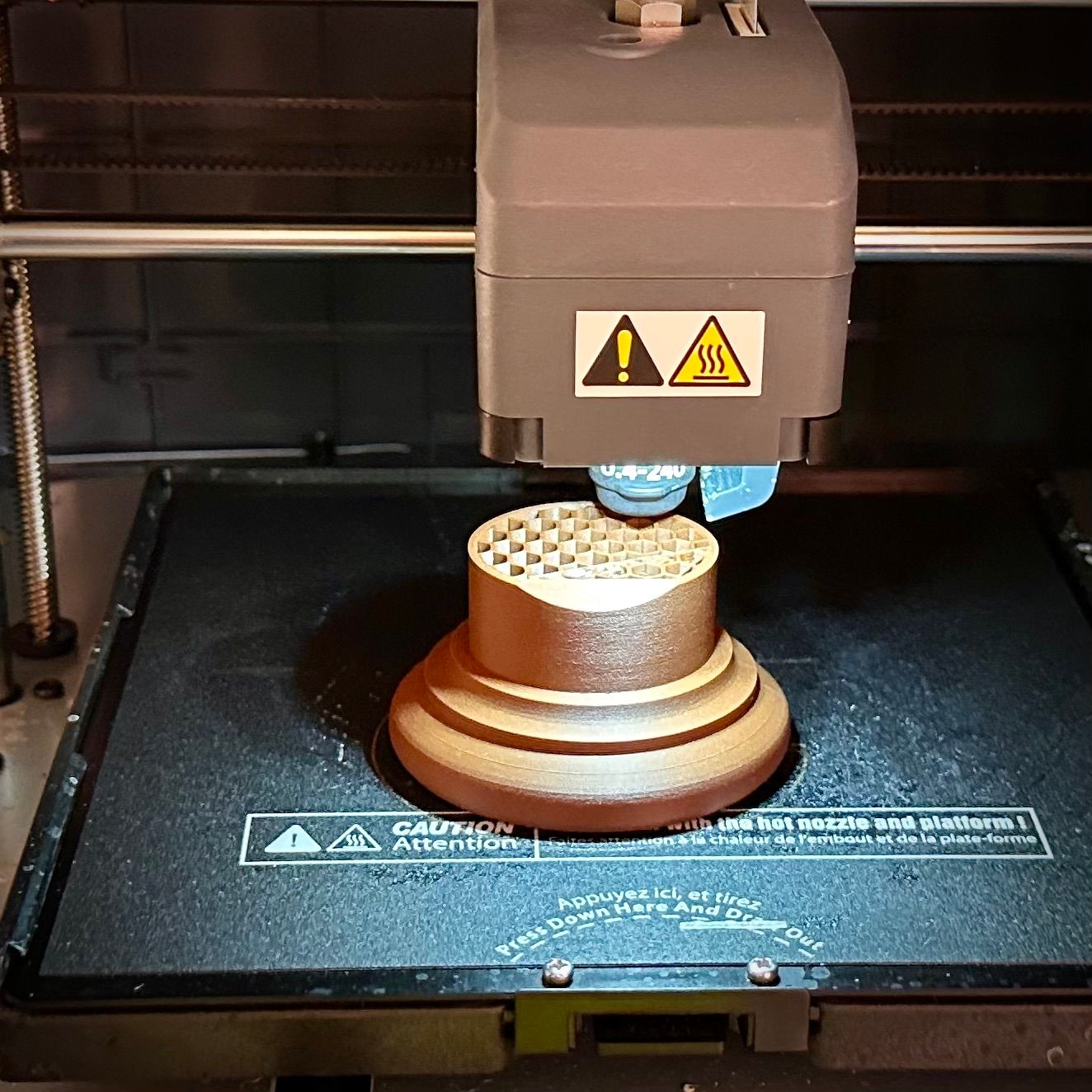 2. Sweet-looking stand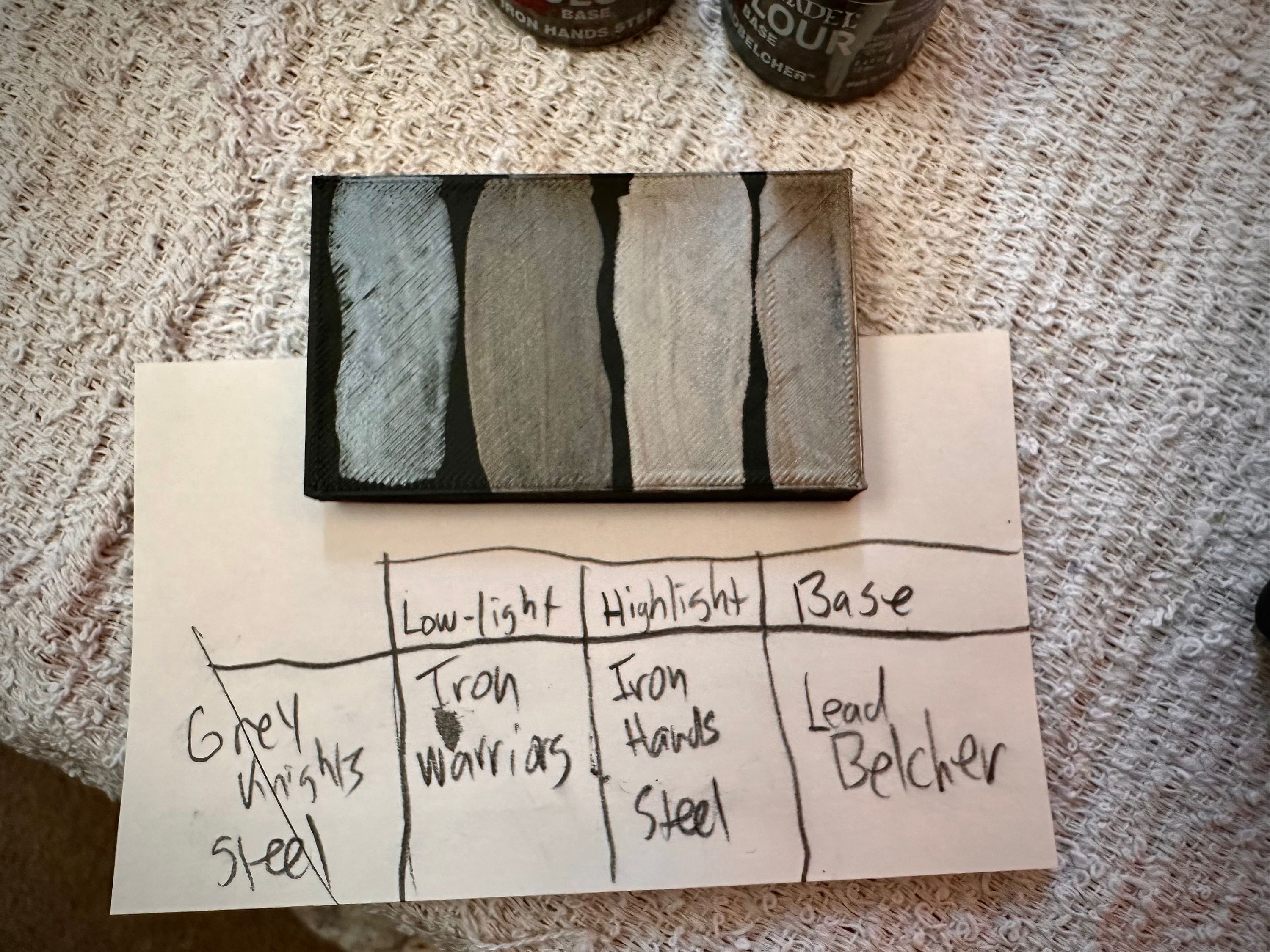 3. Swatches!
Siracusa's head is mostly dry from the primer layer

touch-up/cleanup prolly later tonight

walnut stand needs about another hour, but is looking awesome
basic colors have been provisionally chosen
Listening: boygenius - the record (2023)
Probably back after dinner and family time.
I thank you for your sweetly faked attention.
---
Intermission: Holy Shit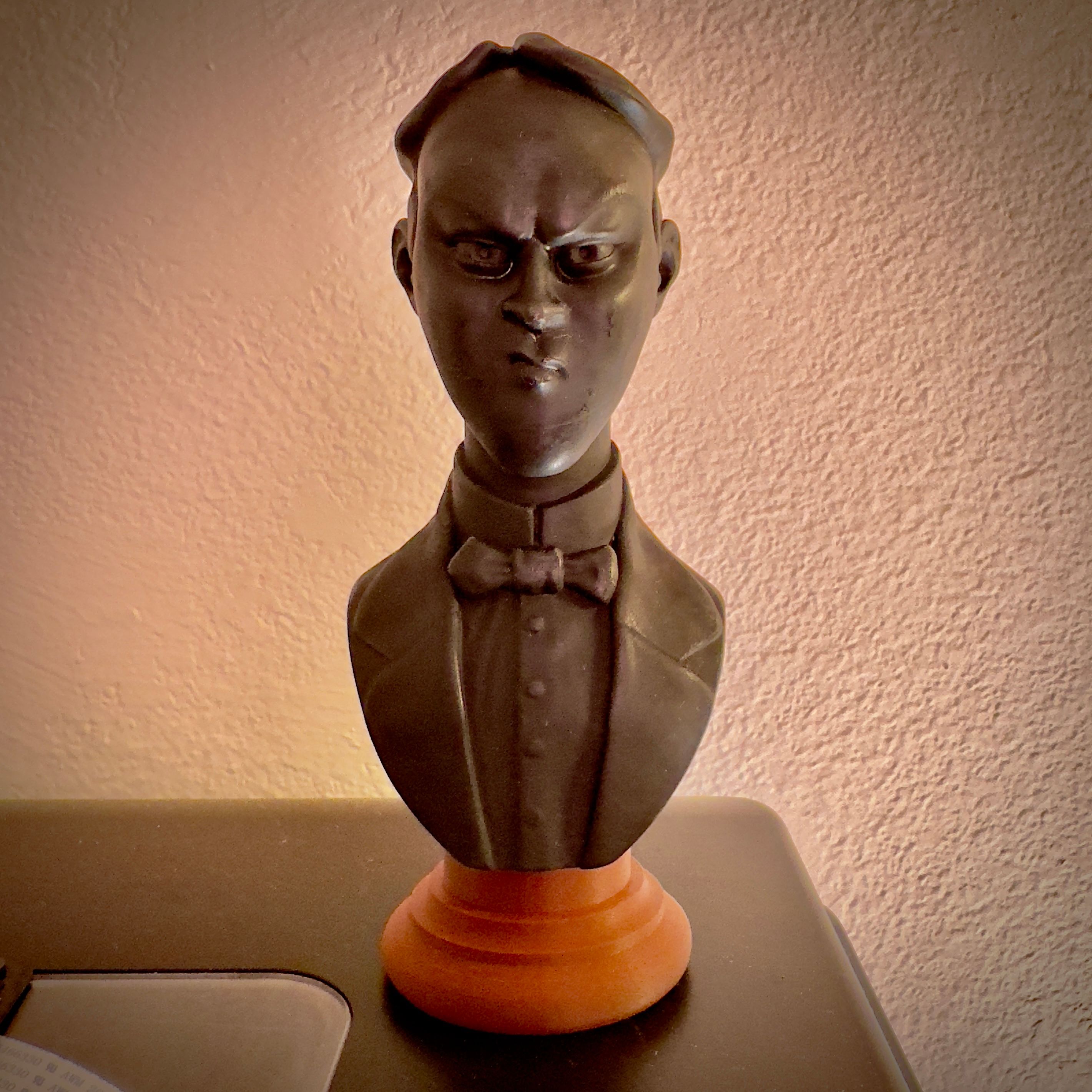 It fits and everything!
---
Diary, 9:22 pm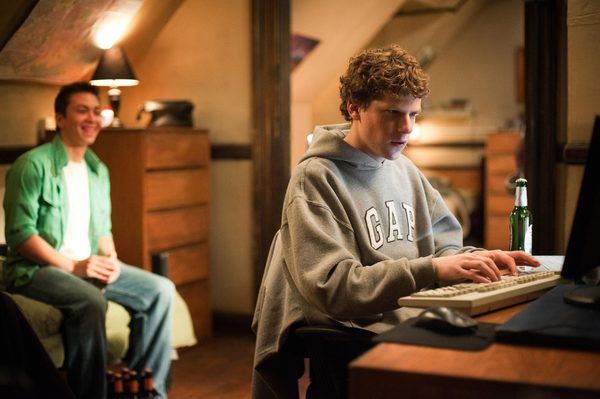 "I'm IN!"
I darkly enjoy how much this web page reads like Mark Zuckerberg drunkenly live-blogging his hacking of the Harvard houses to make "Facemash."
---
Late night grunt work, 11:39 pm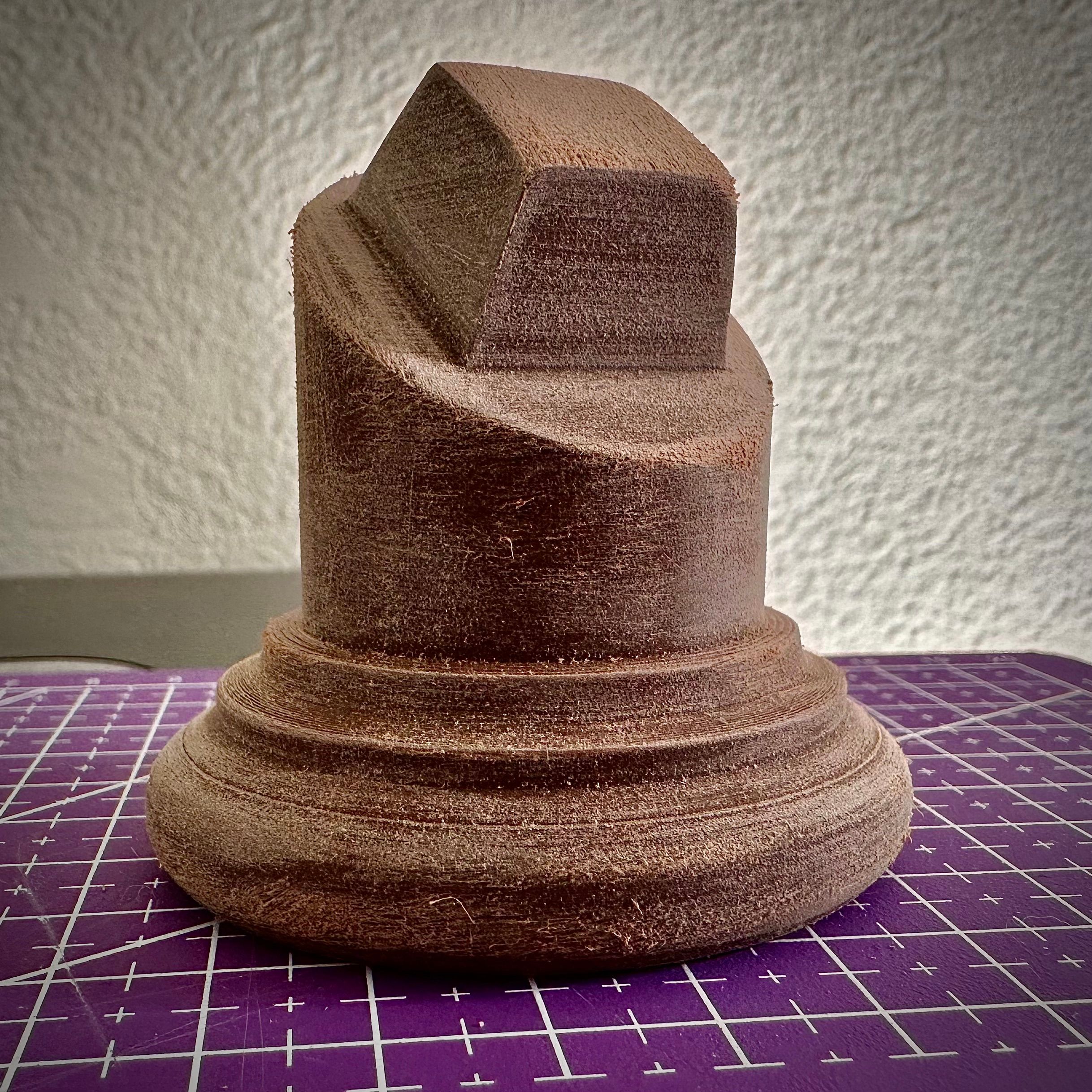 1. Sanded the stand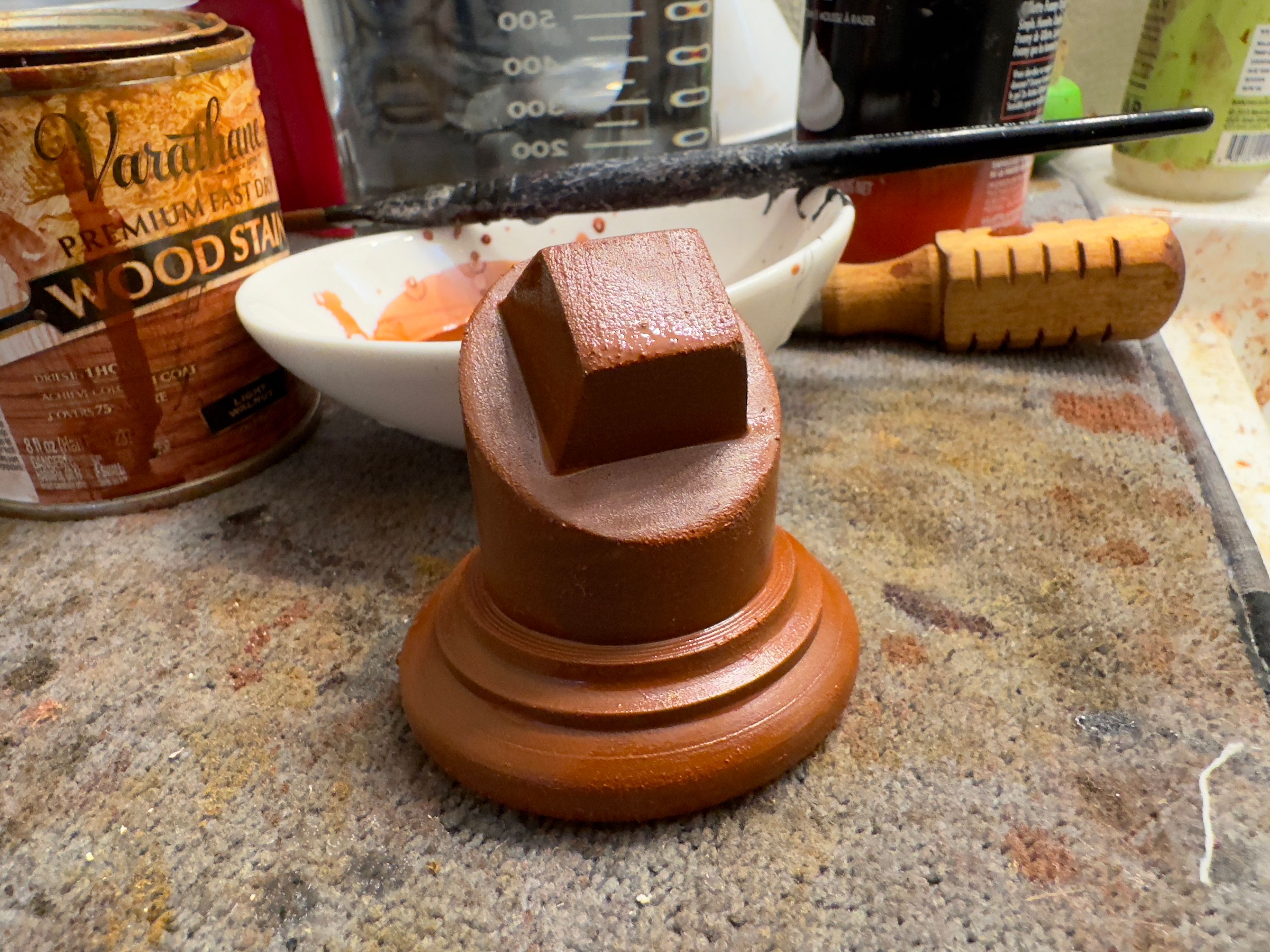 2. Stained the stand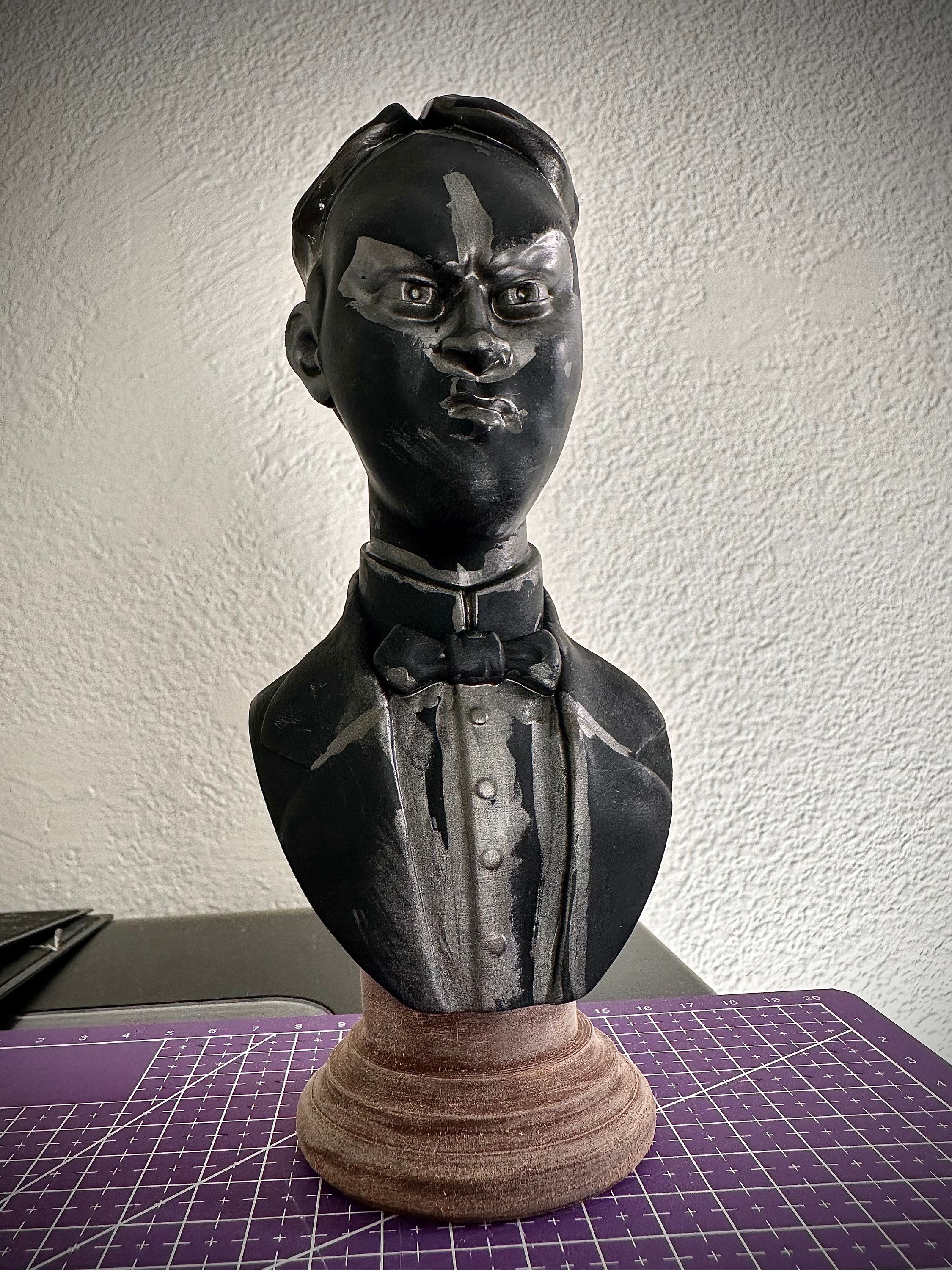 3. Weird low lights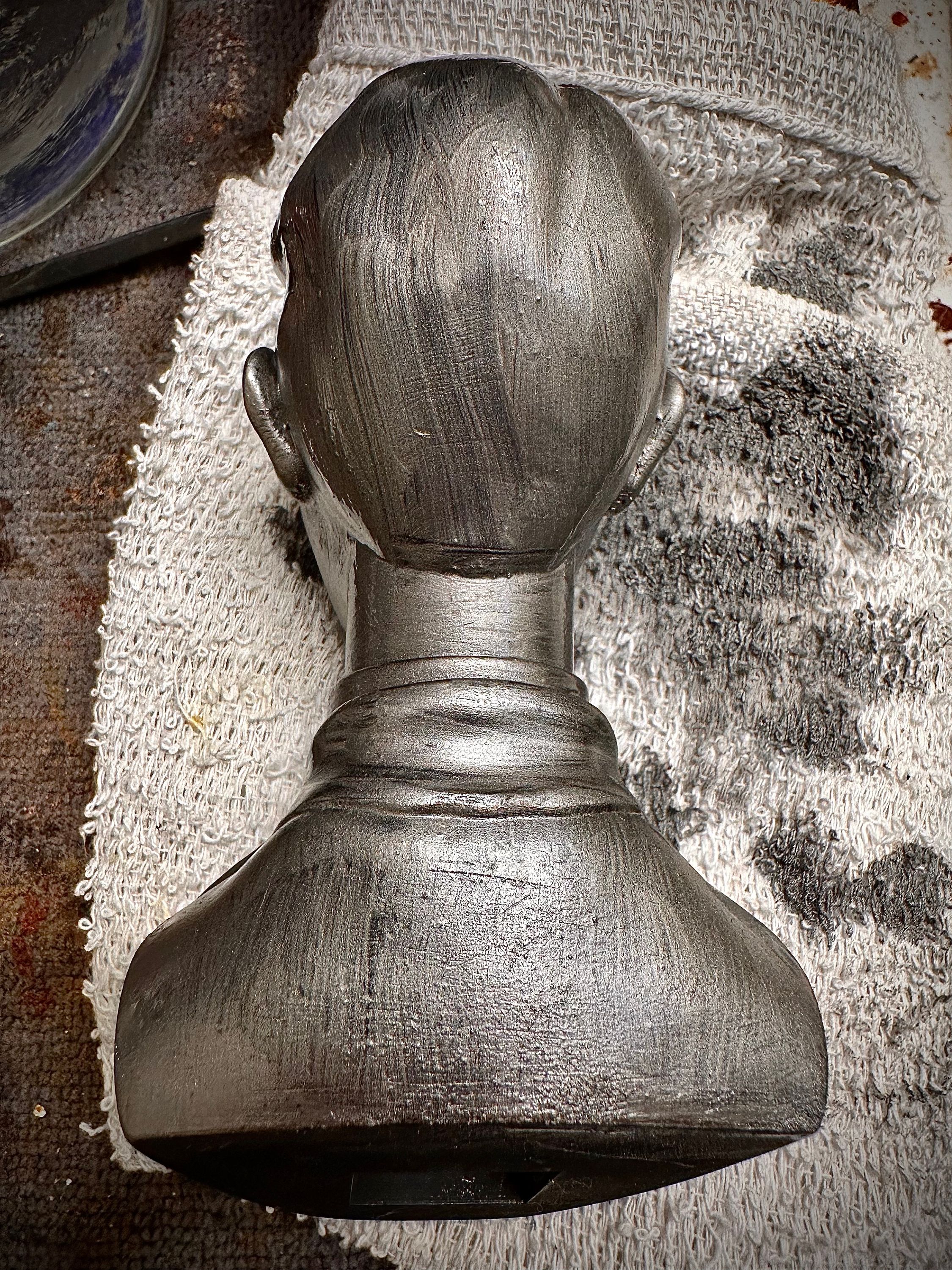 4. Base layer begins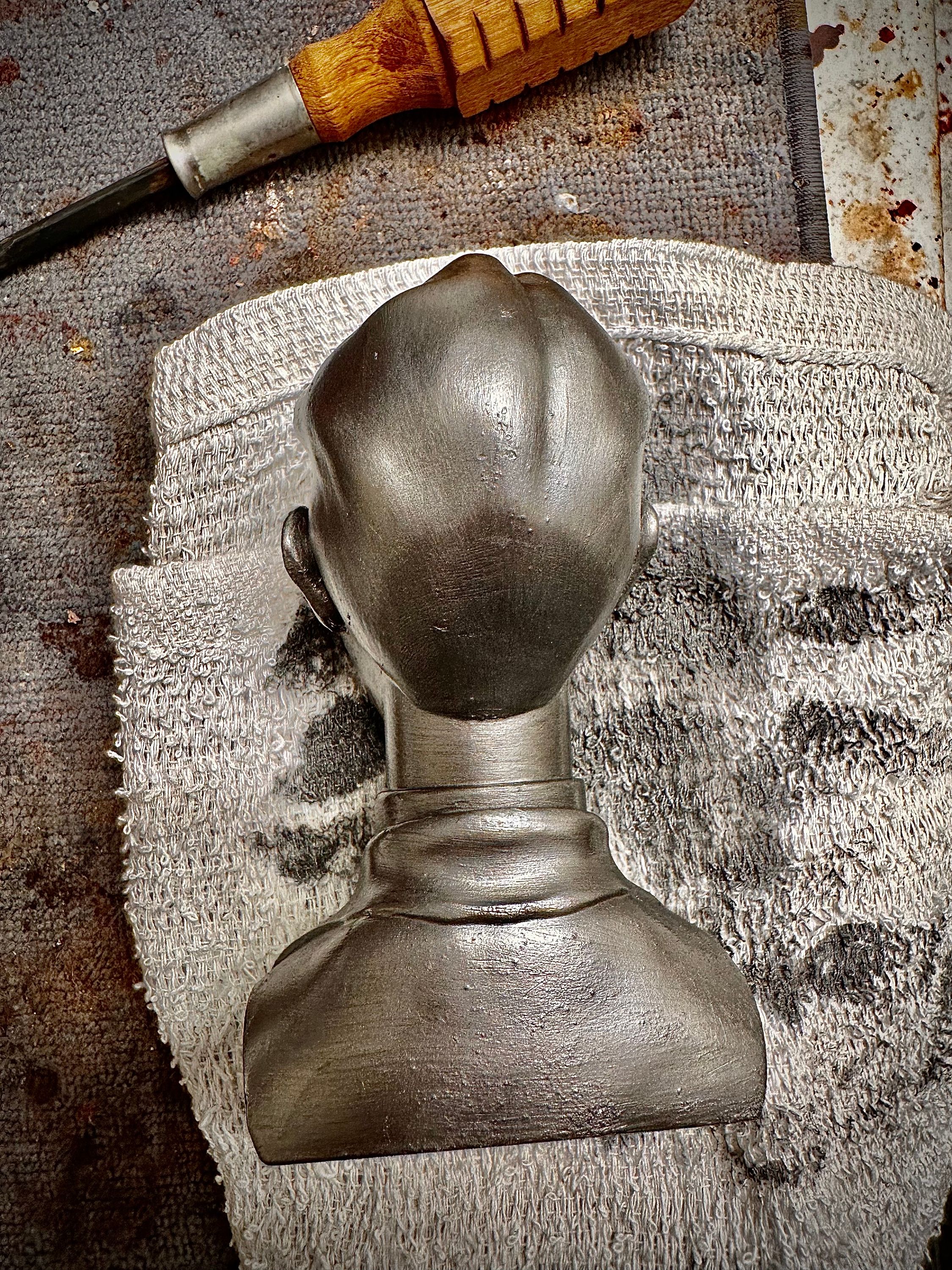 5. Base layer continues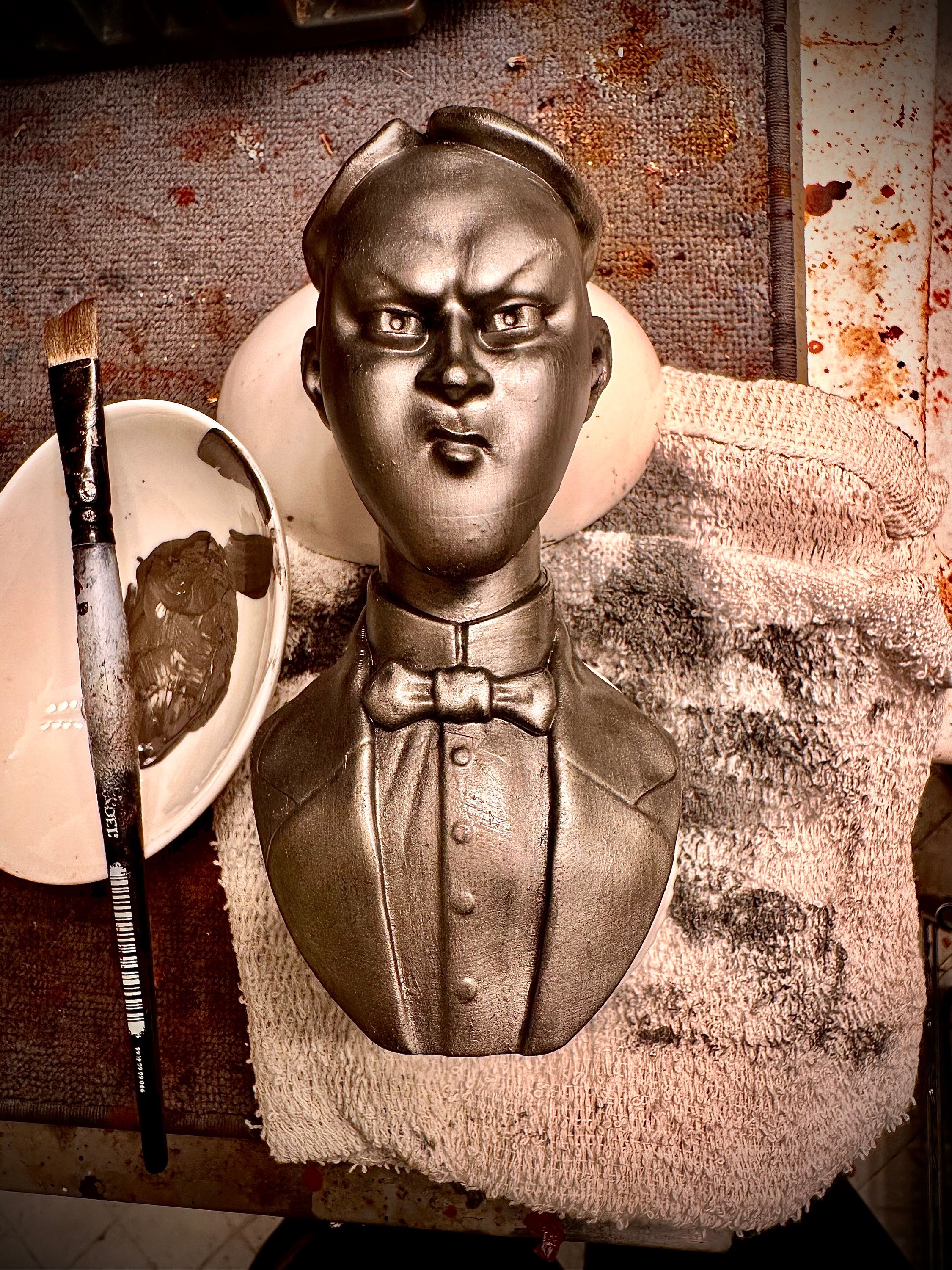 6. Well, hello, handsome.
Sanded the stand (80 → 320 → 400 grit)
Quick layer of Light Walnut wood stain on the stand
Probably pointless low lights with Citadel

"

Iron Warriors" base paint
Base coat part 1, layer 1 (Citadel

"

Leadbelcher")
Base coat part 1, layer 2
Base coat, part 2
Listening: Black Sabbath - Heaven and Hell (1980)
---
FIN
2023-09-28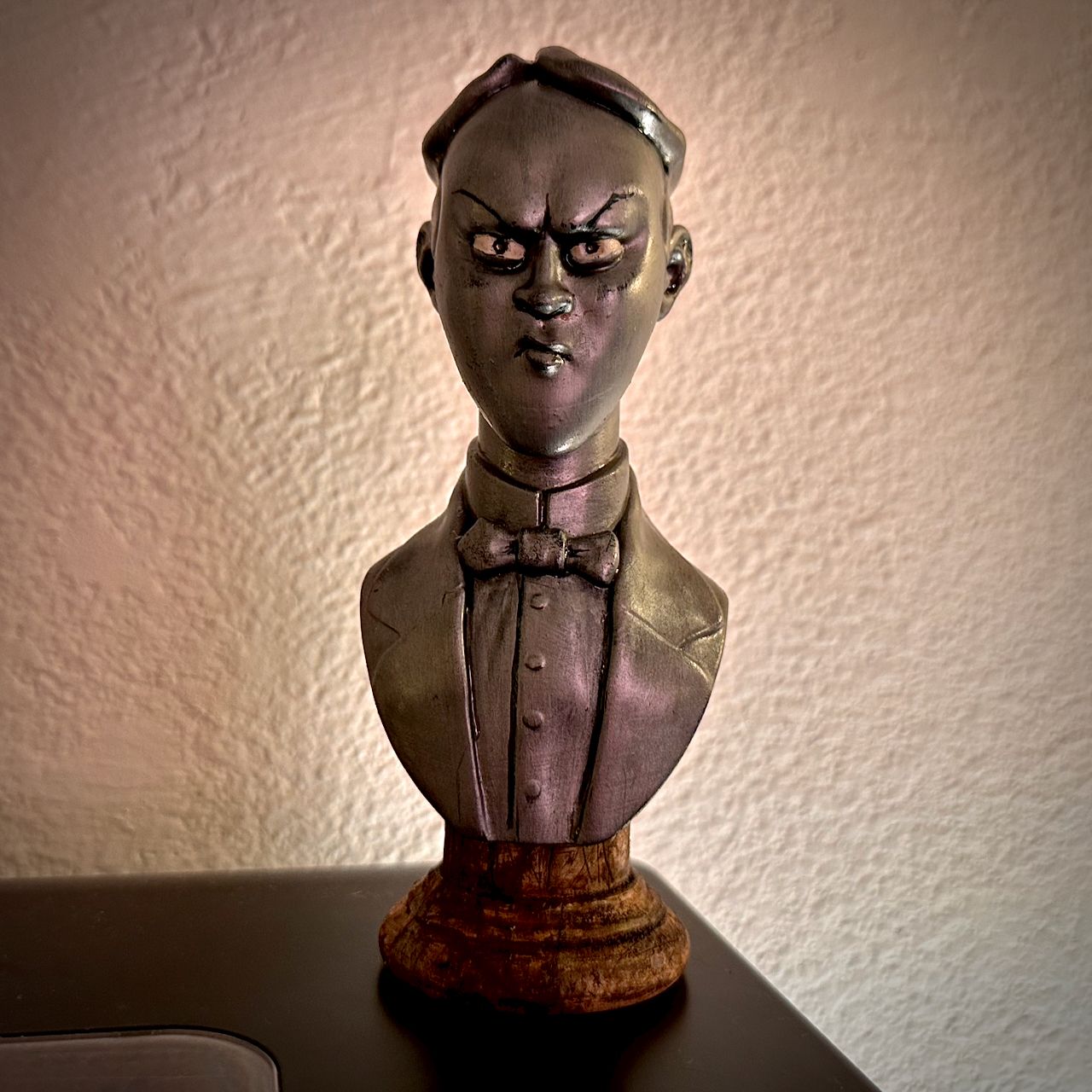 My Worst Friend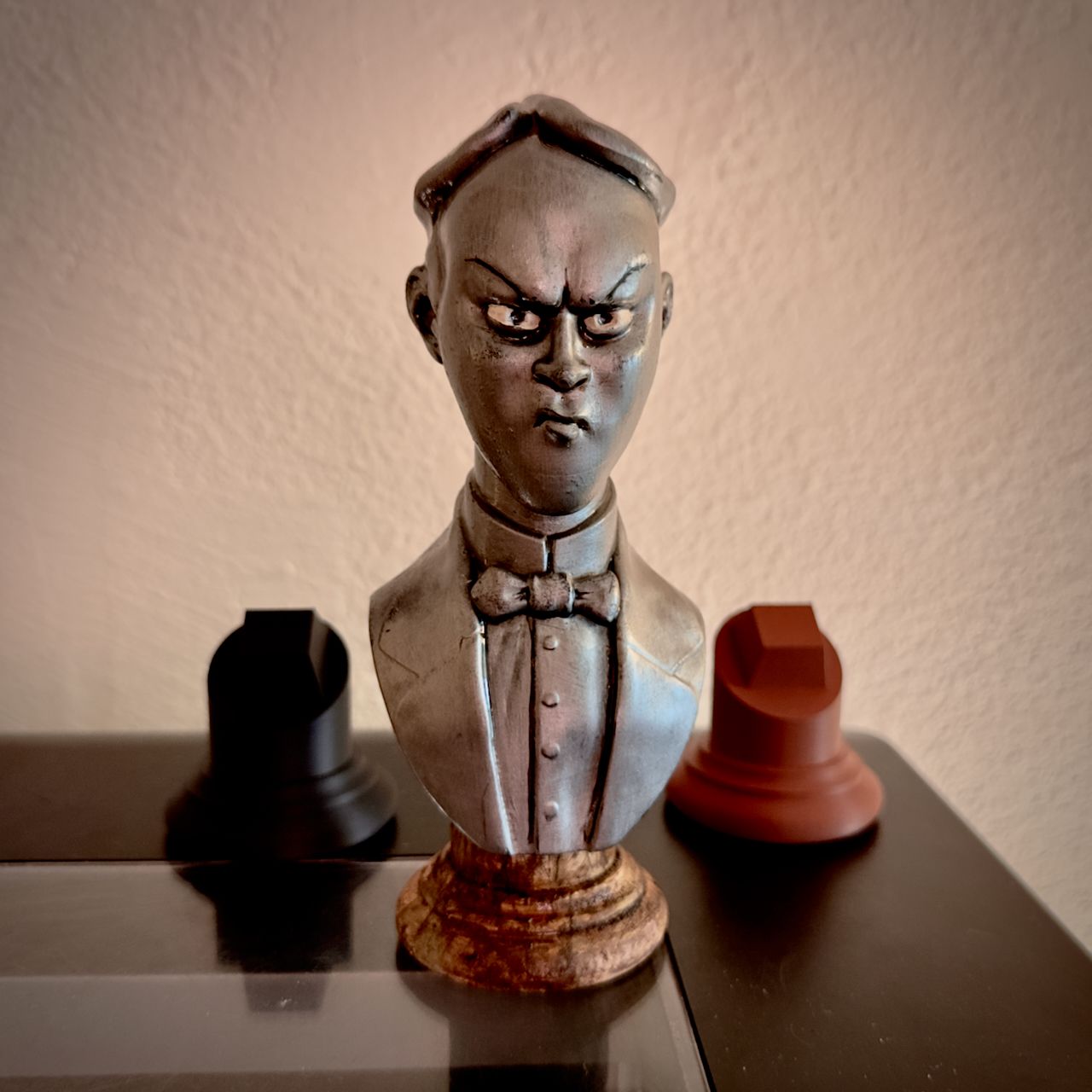 John has stand options.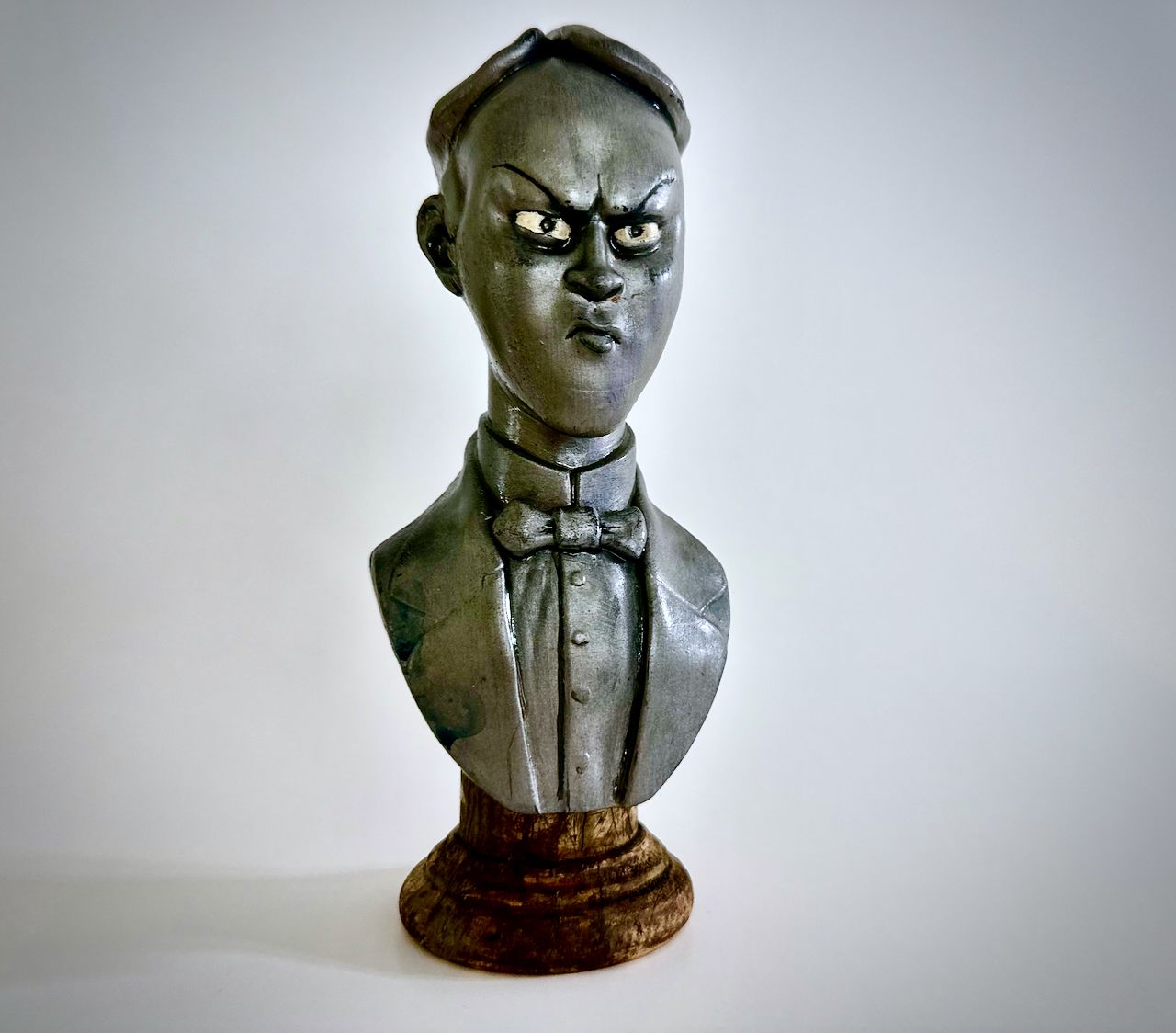 The version for The National Portrait Gallery
Listening: The Avalanches - Since I Left You (2000)
Beverage: iced tea
Okay. Just for purposes of this week's episode, I'm gonna go ahead and call this one done for now.
Obviously, I reserve the right to make more Johns Siracusa in the future, but, remember, real fake artists ship.
Coming Friday 29 September at https://relay.fm/rd. Support the program and hear the 3D talk by joining up.
---